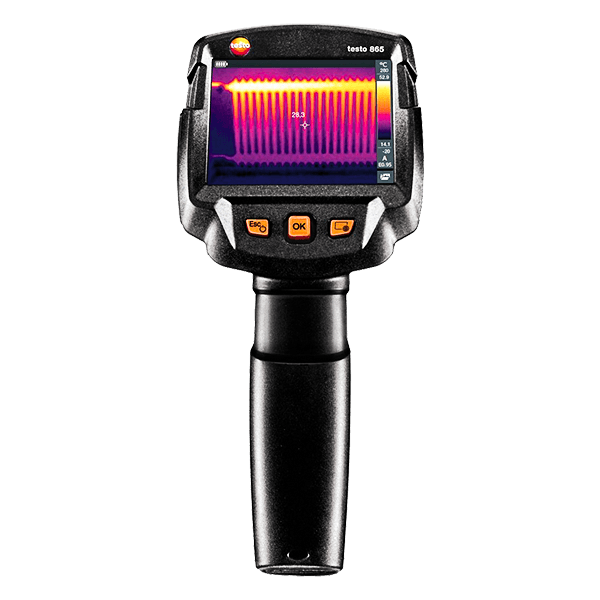 Temperature
Testo 865 - Thermal Imager
Iconic Engineering Limited
Testo 865 - Thermal Imager is offering good performance and the best price at Tools Bangladesh that you order from here.
Model: Testo 865 - Thermal Imager
The Testo 865 thermal imager combines all the important properties required for high-environment thermographic measurement it is accurate, robust, hasty and obedient.
The Testo 865 provides high-character thermography at an affordable price and keeps going even in tough operational conditions. The combat supplied as soon as the thermal imager means it can be straightforwardly transported, therefore it is always there for you once needed.
Technical highlights of the Testo 865 thermal imager
The Testo 865 thermal imager stands out thanks to its easy operation and has the following impressive technical features:
Very good image quality due to high resolution: 19,200 temperature measuring points ensure precise thermography. Infrared resolution of 160 x 120 pixels – via integrated SuperResolution Technology 320 x 240 pixels
Visualize temperature differences from 0.12°C
Critical temperature conditions are directly displayed via automatic hot-cold spot recognition
The IFOV warner means the distance from the measurement object/measurement spot size is determined and the measurement spot is shown on the thermal image – you, therefore, avoid measurement errors because the camera shows you exactly what you can measure
Pro software for image evaluation on the PC
You can choose to save thermal images as JPEGs
Do you know where you can get these tools with the best price in Bangladesh? This tool is rear to find out in the Bangladeshi market place. Only Tools Bangladesh is providing at a reasonable price.
Key Features: Testo 865 - Thermal Imager
Very good image quality: IR resolution of 160 x 120 pixels, via integrated testo SuperResolution Technology 320 x 240 pixels
Very good measuring accuracy of ±2°C
Visualizing temperature differences from 0.12°C
Automatic detection of hot and cold spots
Specifications: Testo 865 - Thermal Imager
Infrared image output

Focus

Fixed focus

Infrared resolution

160 x 120 pixels

Image refresh rate

9 Hz

SuperResolution (IFOV)

2.1 mrad

SuperResolution (Pixel)

320 x 240 pixels

Geometric resolution (IFOV)

3.4 mrad

Minimum focus distance

<0.5 m

Field of view

31° x 23°

Thermal sensitivity

120 mK

Spectral range

7.5 to 14 µm
Image presentation

Display option

IR image only

Colours

4 (iron, rainbow, cold-hot, grey)

Display type

8.9 cm (3.5") TFT, QVGA (320 x 240 pixels)
Measurement

Reflected temperature

manual

Measuring range

-20 to +280 °C

Accuracy

±2 °C, ±2 % of mv

Emissivity

0.01 to 1
Measuring function

Analysis function

Mean point measurement, hot/cold-spot recognition, Delta T

testo ScaleAssist

Included

IFOV warner

Included
Imager equipment

Full screen mode

Included

JPEG storage

Included

Video streaming

via USB

Standard lens

31° x 23°

Interface

USB 2.0 Micro B
Imager storage

File format image

.bmt; .jpg; export option in .bmp; .jpg; .png; .xls; .csv

Storage device

Internal Memory (2.8 GB)
Power supply

Battery type

Fast-charging, Li-ion battery can be changed on-site

Operating time

4 h

Mains operation

yes
Ambient Condition

Housing protection class

IP54

Vibration

2G

Air humidity

20 to 80 %RH non-condensing

Storage temperature

-30 to +60 °C

Operating temperature

-15 to +50 °C
Physical specification

Product-/housing material

PC - ABS

Weight

510 g

Dimensions

219 x 96 x 95 mm
PC software

System requirements

Windows® 10; Windows® 8; Windows® 7
Standards, tests, warranty

EU-/EG-guidelines

EMC: 2014/30/EU
General technical data

Product colour

Black

Display ligthing

bright / normal / dark
Related Products