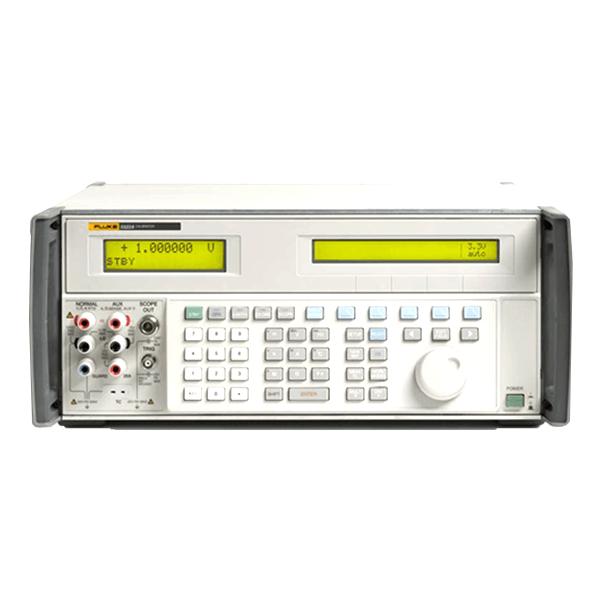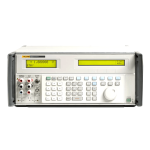 The 5522A Multi-Product Calibrator replaces the 5520A and addresses a wide calibration workload and comes with internal and external protection features that protect it against damage and make it easier to transport for on-site or mobile calibration.
Fluke 5522A can also be fully automated with MET/CAL® Plus Calibration Management Software (version 7.3 SP1 or later). It is the ideal calibrator for metrology professionals who need to perform resistance calibration, voltage calibration, current calibration and more, and who want a transportable instrument that offers them a high return on investment.
Fluke 5522A is a voltage calibrator, a resistance calibrator, a current calibrator and much more. It sources direct voltage and current, alternating voltage and current with multiple waveforms and harmonics, two simultaneous voltage outputs or voltage and current to simulate dc and ac power with phase control, resistance, capacitance, thermocouples and RTDs.
Fluke 5522A can also measure thermocouple temperature, and pressure using one of 29 Fluke 700 Series pressure modules. When you want to find ou best calibration service in bd and best tools supplier in bd we are here for you.
Features
5522A Multi-Product Calibrator
Key Features:
Specifications
Specifications: 5522A Multi-Product Calibrator
Summary Specifications

Function & Range
Direct volts
0 to ± 1020 V
Direct Current
0 to 20.5 A
Alternating volts
1 mV to 1020 V
10 Hz to 500 kHz
Volt*Hertz
1000 V@ 10 kHz/330 V@100 kHz
Alternating current
29 μA to 20.5 A
10 Hz to 30 kHZ
Waveforms
Sine, square, triangle, truncated sine
Resistance
0 MΩ to 1100 MΩ
Capacitance
220 pF to 110 mF
Power (phantom loads)
20.9 kW
Phase control
0.01°
Thermocouple (source and measure temperature)
B, C, E, J, K L N R, S, T, U
10 μV/°C
RTD (source temperature)
Pt 385-100 Ω, Pt 3926-100 Ω Pt 3916-100 Ω,
Pt 385-200 Ω, Pt 385-500 Ω, Pt385 1000 Ω,
PtNi 385-120 Ω, (Ni120), Cu 427 10 Ω
Interfaces
RS-232, IEEE 488
Phase lock
Yes
Frequency uncertainty
<2.5 ppm
External frequency reference (10 MHz)
Yes
Calibration Documentation
17025 accredited report of calibration included
Oscilloscope calibrator (optional)
Levelled sine wave from 5 mV to 5.5 Vpp max, frequencies 50 kHz to 600 kHz and 3.5 Vpp max to 1100 MHz; edge rise times of < 300ps, multiple trigger functions, lowest dc, square wave and timing uncertainty
Power calibrator (optional)
Composite harmonic, flicker simulation, sags and swells simulation modes
Includes
5522A Multi-Product Calibrator
Includes:
Calibrates a wide variety of electrical test equipment
Rugged optional carrying case with built-in handles and wheels and removable front/rear access doors for in-situ calibration in almost any environment
Robust protection circuits prevent costly damage from operator error
Resistance calibrator, voltage calibrator, current calibrator and more
Redesigned carrying handles make the 5522A easy to transport
Remarkably affordable
Accessories
Accessories: 5522A Multi-Product Calibrator
Model Name
Description
5522A

Multiproduct Calibrator

5522A/6

Multiproduct Calibrator with 600 MHz
Oscilloscope Calibration Option

5522A/1GHZ

Multiproduct Calibrator with 1100 MHz
Oscilloscope Calibration Option

5522A-PQ

Multiproduct Calibrator with Power Quality Option

5522A-PQ/6

Multiproduct Calibrator with Power Quality and
600 MHz Oscilloscope Calibration Options

5522A-PQ/1GHZ

Multiproduct Calibrator with Power Quality and
1100 MHz Oscilloscope Calibration Options
Accessories common to all models:
| Accessory | Description |
| --- | --- |
| 5500A/COIL | 50-Turn Current Coil |
| 5500A/HNDL | Side handle |
| 5520A-525A/LEADS | Test Lead Set |
| 5522A/CARRY CASE | Rugged Carrying Case with removable front/back panels |
| 55XX/CASE | Transit case with wheels |
| Y5537 | Rackmount kit |
| Fluke-700Pxx | Pressure Module Series |