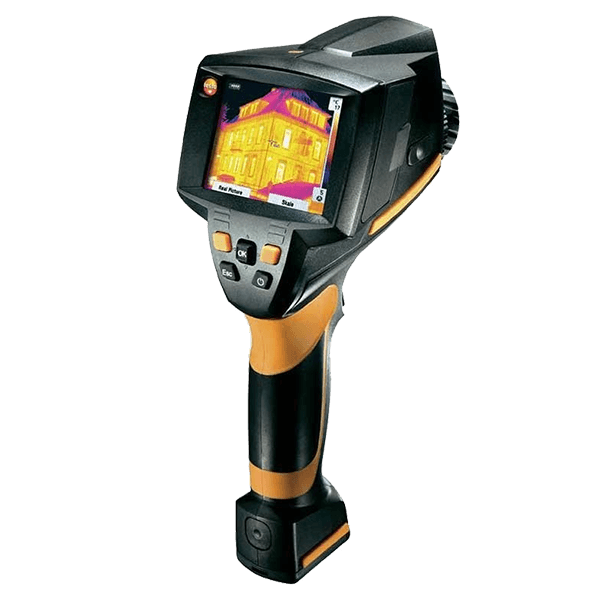 Key Features: Testo 875-2i - Infrared Camera
With the Testo 875-2i thermal camera, you can make a lead of your industrial and building thermography undertaking even more easily and speedily.
The built-in digital camera and voice recording via the headset make documentation and assignment of thermal and genuine images easier. One of the best site is Tools Bangladesh for electrical equipment in Bangladesh. So, there is no chance to get an unauthorized tool from here. You may confidently shop here.
Features
Key Features: Testo 875-2i - Infrared Camera
Very good image quality: IR resolution 160 × 120 pixels, with SuperResolution Technology 320 × 240 pixels
Thermal sensitivity < 50 mK, high-quality 32° × 23° lens, automatic hot/cold spot detection and optional temperature measurement up to +550 °C
Including a built-in digital camera and voice recording via a headset
Building thermography: Direct display of the risk of the mould via traffic light colours
Specifications
Specifications: Testo 875-2i - Infrared Camera
Infrared image output

Focus

manual

Infrared resolution

160 x 120 pixels

Image refresh rate

33 Hz

SuperResolution (IFOV)

2.1 mrad (Tele: 0.6 mrad)

SuperResolution (Pixel)

320 x 240 pixels

Geometric resolution (IFOV)

3.3 mrad (Tele: 1.0 mrad)

Minimum focus distance

0.1 m (Tele: 0.5 m)

Field of view

32° x 23°

Thermal sensitivity

˂ 50 mK at +30 °C
Image output visual

Minimum focus distance

0.4 m

Image size

640 x 480 pixels
Image presentation

Display option

IR image only; real image only; IR image / real image

Number of colours

10

Colours

10 (iron, rainbow, rainbow HC, cold-hot, blue-red, grey, inverted grey, sepia, Testo, iron HT)

Display type

3.5" LCD with 320 x 240 pixels

Video output

USB 2.0
Measurement

Reflected temperature

manual

Measuring range

-30 to +100°C; 0 to +350 °C (switchable)

High temperature measuring

+350 to +550 °C

Accuracy

±2 °C, ±2 % of m.v. (±3 °C of m.v. at -30 to -22 °C)

Accuracy high temperature

±3 % of m.v. at +350 to +550 °C
Measuring function

Surface moisture distribution

Included

Humidity measurement

Optional

Solar mode – manual

Included

Analysis function

Up to 2 measurement points, hot/cold spot recognition, isotherms, area measurement (min/max on area)
Imager equipment

Digital camera

Included

Video streaming

Included

Voice recording

wired headset

Laser

Included

Exchangeable lenses

9° x 7°

Standard lens

32° x 23°

Power-LED

Included
Imager storage

File format image

.bmt; export option in .bmp; .jpg; .png; .csv; .xls

Storage device

SD card 2GB (approx. 2.000 images)
Power supply

Battery type

Fast-charging, Li-ion battery can be changed on-site

Operating time

4 h

Charging options

In instrument / charger (optional)

Mains operation

yes
Ambient Condition

Storage temperature

-30 °C; 60 °C

Operating temperature

-15 °C; 40 °C

Housing protection class

IP54

Vibration

2G

Air humidity

20 to 80 %RH non-condensing
Physical specification

Weight

900 g

Tripod mounting

M6

Housing

ABS

Dimensions

152 x 108 x 262
PC software

System requirements

Windows XP (Service Pack 3); Windows Vista; Windows 7 (Service Pack 1); Windows 8; Interface: USB 2.0
Standards, tests, warrenty

EU-/EG-guidelines

2004/108/EG