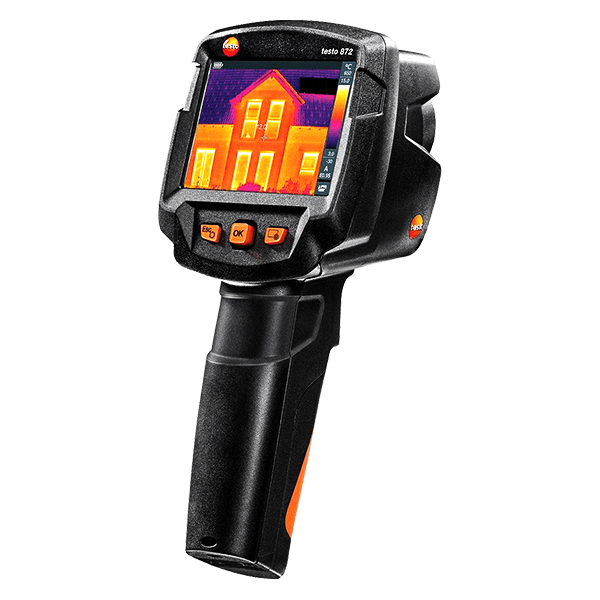 Model: Testo 872 - thermal imager
The Testo 872 thermal imager is ideally suited for professional industrial and building thermography - at the same time, it ensures your work is both quick and easy.
It is versatile to use, for example in industrial and mechanical maintenance or for detecting structural defects. You can generate error-free and objectively comparable infrared images using its handy functions.
The IFOV warner, Testo ɛ-Assist and Testo ScaleAssist mean you can avoid measurement errors and not only effortlessly achieve optimum setting of emissivity (ɛ) and reflected temperature (RTC) for building thermography, but also of thermal image scale.
Testo 872 Thermal Imager is professional industrial because it is a rugged reliable and trusted tool that provides the accurate result with the highly productive. For more information contact at Tools Bangladesh.
Features
Key Features: Testo 872 - thermal imager
Highest image quality: IR resolution of 320 x 240 pixels, via integrated testo SuperResolution Technology 640 x 480 pixels
Precise measurement: thermal sensitivity of 0.06°C
Smart and wireless: use your mobile device with the free testo Thermography App and wirelessly transmit readings from the testo 770-3 clamp meter and the testo 605i humidity measuring instrument (both available separately)
Integrated laser marker – can also be precisely visualized as a measuring point in the thermal image
Specifications
Specifications: Testo 872 - thermal imager
Infrared image output

Focus

Fixed focus

Infrared resolution

320 x 240 pixel

Image refresh rate

9 Hz

SuperResolution (IFOV)

1.3 mrad

SuperResolution (Pixel)

640 x 480 pixels

Geometric resolution (IFOV)

2.3 mrad

Minimum focus distance

<0.5 m

Field of view

42° x 30°

Thermal sensitivity

60 mK

Spectral range

7.5 to 14 µm
Image output visual

Minimum focus distance

0.5 m

Image size

at least 3.1 MP
Image presentation

Display option

IR image / real image

Colours

10 (iron, rainbow, rainbow HC, cold-hot, blue-red, grey, inverted grey, sepia, Testo, iron HT)

Display type

8.9 cm (3.5") TFT, QVGA (320 x 240 pixels)

Digital zoom

2x; 4x
Measurement

Reflected temperature

manual

testo ε-Assist

Included

Measuring range

-30 to +100°C; 0 to +650°C

Accuracy

±2 °C, ±2 % of m.v.

Emissivity

0.01 to 1
Measuring function

Solar mode – manual

Input of solar radiation value

Analysis function

Mean point measurement, hot/cold-spot recognition, Delta T, area measurement (min-max on area)

Humidity measurement with humidity measuring instrument

Automatic measurement value transfer of thermohygrometer testo 605i via Bluetooth (instrument must be ordered separately); Wireless permit in EU, EFTA, USA, Canada, Australia, Turkey

testo ScaleAssist

Included

Humidity mode - manual

Included

IFOV warner

Included

Electrical mode - manual

Input of current, voltage or power

Electrical measurement with clamp meter

Automatic measurement value transfer of clamp meter testo 770-3 via Bluetooth (instrument must be ordedered separately); Wireless permit in EU, EFTA, USA, Canada, Australia, Turkey
Imager equipment

Digital camera

Included

Full screen mode

Included

JPEG storage

Included

Video streaming

via wireless LAN with testo Thermography App

Laser

Laser marker

Standard lens

42° x 30°

Interface

USB 2.0 Micro B

WLAN Connectivity

Communication with the testo Thermography App wireless module BT/WLAN (EU, EFTA, USA, AUS, CDN, TR)

Bluetooth

Measurement value transfer from thermohygrometer testo 605i, clamp meter testo 770-3 (optional); Wireless permit in EU, EFTA, USA, Canada, Australia, Turkey
Imager storage

File format image

.bmt; .jpg; export option in .bmp; .jpg; .png; .csv; .xls

Storage device

Internal Memory (2.8 GB)
Power supply

Battery type

Fast-charging, Li-ion battery can be changed on-site

Operating time

4 h

Mains operation

yes

Charging options

In instrument / charger (optional)
Ambient Condition

Housing protection class

IP54

Vibration

2G

Air humidity

20 to 80 %RH non-condensing

Storage temperature

-30 to +60 °C

Operating temperature

-15 to +50 °C
Physical specification

Product-/housing material

PC - ABS

Weight

510 g

Dimensions

219 x 96 x 95 mm
PC software

System requirements

Windows® 10; Windows® 8; Windows® 7
Standards, tests, warrenty

EU-/EG-guidelines

RED: 2014/53/EU; EMC: 2014/30/EU
General technical data

Product colour

Black

Display ligthing

bright / normal / dark
Includes
Includes: Testo 872 - thermal imager
Testo 872 - thermal imager
Accessories
Accessories: Testo 872 - thermal imager
Testo 770-3 - clamp meter with Bluetooth