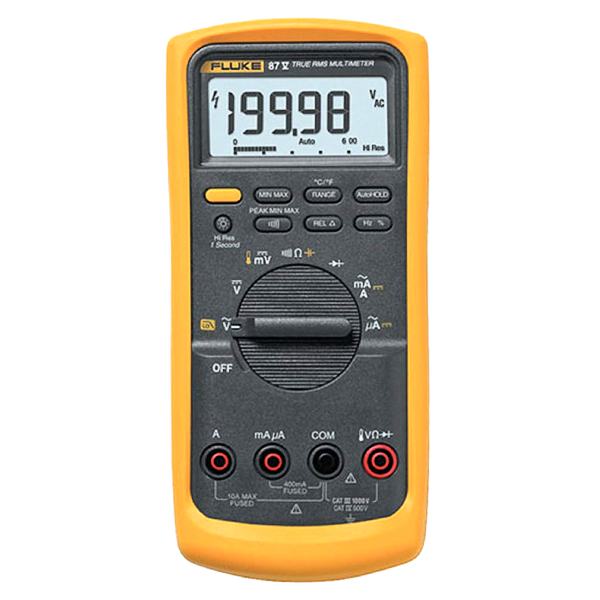 Model: FLUKE 87-5 Industrial Digital Multimeter
Fluke 87V Industrial Digital Multimeter which is best for testing and a major group of engineers they enjoyed.
When productivity is on the line and you need to solve problems fast, the Fluke 87V multimeter delivers the accuracy and advanced troubleshooting capabilities you need.
Designed specifically to handle complex signals, it takes the guesswork out of drive system troubleshooting—even in loud, high-energy, high-altitude locations. The full-featured 87V is well suited for most heavy industrial environments. Combo kit also available mfg. part no. Fluke-87-5/E includes special accessories to make industrial troubleshooting even more productive. All the time your Fluke product available anywhere in Bangladesh.
If you want to buy this one through Tools Bangladesh you can get a delivery service anywhere in Bangladesh. You also will get an engineering service if you need it.
Features
Key features: FLUKE 87-5 Industrial Digital Multimeter
Unique function for accurate voltage and frequency measurements on adjustable speed True-RMS ac voltage and current for accurate measurements on nonlinear signals
Built-in thermometer conveniently allows you to take temperature readings without having to carry a separate instrument
Motor drives and other electrically noisy equipment
Measure up to 1000 V ac and dc
Measure up to 10 A (20 A for 30 seconds)
10,000 uF capacitance range
Frequency to 200 kHz and % duty cycle
Peak capture to record transients as fast as 250 ìs
4½ digit mode
Optional magnetic hanger for easy setup and viewing while freeing your hands for other tasks
Large display digits and 2 level bright white backlight for increased visibility
Withstands hazardous 8,000 volt spikes caused by load switching and faults on industrial circuits and complies with second edition IEC and ANSI electrical safety standards
Improved sleep mode for long battery life
Relative mode to remove test lead resistance from low ohms measurements
Auto and manual ranging for maximum flexibility
Specifications
Specifications: FLUKE 87-5 Industrial Digital Multimeter
Specifications
Voltage DC
Maximum voltage
1000 V
Accuracy
±(0.05% + 1)
Maximum resolution
10 µV
Voltage AC
Maximum voltage
1000 V
Accuracy
±(0.7% + 2) True RMS
AC bandwidth
20 kHz with low pass filter; 3 db @ 1 kHz
Maximum resolution
0.1 mV
Current DC
Maximum amps
10 A (20 A for 30 seconds maximum)
Amps accuracy
±(0.2% + 2)
Maximum resolution
0.01 µA
Current AC
Maximum amps
10 A (20 A for 30 seconds maximum)
Amps accuracy
±(1.0% + 2) True RMS
Maximum resolution
0.1 µA
Resistance
Maximum resistance
50 MΩ
Accuracy
±(0.2% + 1)
Maximum resolution
0.1 Ω
Capacitance
Maximum capacitance
9,999 µF
accuracy
±(1% + 2)
Maximum resolution
0.01 nF
Frequency
Maximum frequency
200 kHz
Accuracy
±(0.005% + 1)
Maximum resolution
0.01 Hz
Duty cycle
Maximum duty cycle
99.90%
Accuracy
±(0.2% per khz + 0.1%)
Maximum resolution
0.10%
Temperature measurement
–200.0°C – 1090°C
–328.0°F – 1994.0°F
excluding probe
80 BK temperature probe
–40.0°C – 260°C
–40.0°F – 500°F, 2.2°C or 2% whichever is greater
Conductance
Maximum conductance
60.00 nS
Accuracy
±(1.0% + 10)
Maximum resolution
0.01 nS
Diode
Range
3 V
Resolution
1 mV
Accuracy
±(2% + 1)
Duty cycle range
Accuracy
Within ±(0.2% per kHz + 0.1%)
Environmental Specifications
Operating temperature
–20°C to + 55°C
Storage temperature
–40°C to + 60°C
Humidity (without condensation)
0% – 90% (0°C – 35°C)
0% – 70% (35°C – 55°C)
Operating Altitude
2000 m
Safety Specifications
Overvoltage category
EN 61010–1 to 1000 V CAT III, 600V CAT IV
Agency approvals
UL, CSA, TÜV, VDE listed
Mechanical and General Specifications
Size
201 x 98 x 52 mm (with holster)
Weight
355 g
624 g – with holster
Display
Digital
6000 counts updates 4/sec.
19,999 counts in high–resolution mode
Analog
32 segments, updates 40/sec
Frequency
19,999 counts, updates 3/sec at > 10 Hz
Warranty
Lifetime
Battery Life
Alkaline
~400 hours typical, without backlight
Shock
1 Meter drop per IEC 61010–1:2001
Vibration
Per MIL–PRF–28800 for a Class 2 instrument
Includes
Includes: FLUKE 87-5 Industrial Digital Multimeter
C81Y yellow protective holster and Flex-Stand™
80BK K-Type Temperature Probe
Users Manual
9V battery installed
TL75 Hard Point™ Lead Set with AC70A Alligator Clips
Accessories
Accessories: FLUKE 87-5 Industrial Digital Multimeter
Fluke TLK-225
Fluke Toolpak
Fluke TL220
Fluke AC280
Fluke I410
Fluke C550
Fluke TL175