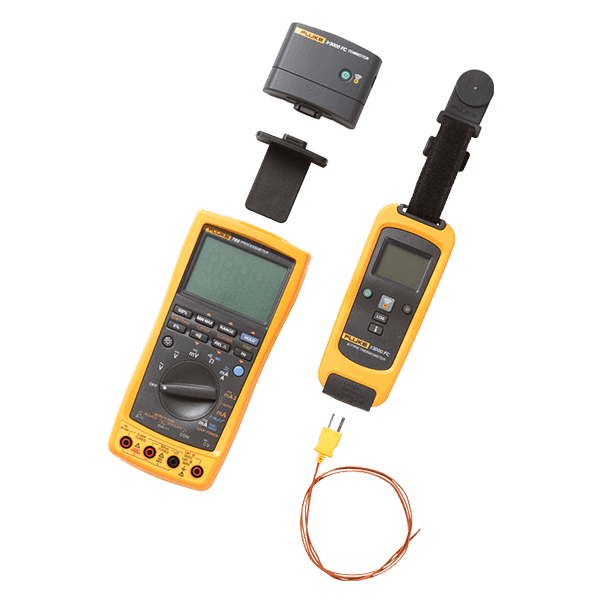 Model: Fluke 789 FC ProcessMeter™ and Temperature Kit
Fluke 789 FC ProcessMeter™ and Temperature Kit are giving the best features that are including 100% larger dual display with more facilities. Reliable rugged and very working power.
The Fluke 789 ProcessMeter is the ultimate troubleshooting tool for electricians and instrumentation professionals, combining the functionality of a loop calibrator once the knack of a digital multimeter. By equipping the 789 by now a temperature measurement module and the wireless data logging capabilities of Fluke Connect subsequent to ShareLive video call, process technicians can now obtain a lot more even though carrying a lot less. And later it's built-in, selectable 250-ohm HART resistor, it eliminates the compulsion to carry a sever resistor following you.
Use the included FC Connector bearing in mind the Fluke 789 and obtain the full service of the Fluke Connect app. Download it now and obtain started.
Tools Bangladesh offers Fluke 789 FC ProcessMeter™ and Temperature Kit for Using the included FC Connector with the Fluke 789 and get the full benefits of the Fluke Connect. Do not get it by the lowest price without the online place Tools Bangladesh. So Quick Order us.
Features
Key features: Fluke 789 FC ProcessMeter™ and Temperature Kit

Fluke 789 Temperature Kit features:
Unique new wireless measurement logging capability
Temperature measurement from -200 °C to 1372 °C using the t3000 FC
24 V Loop power supply
HART mode setting with loop power (adds 250 ohm resistor)
100% larger dual display
1200 ohm drive capability on mA source
Enhanced backlight with two brightness settings
0% to 100% mA Span Check buttons to toggle between 4 and 20 mA
Infrared I/O serial port compatible with
FlukeView® Forms Software Version 2.1
Externally accessible fuses for easy replacement
These 787 features are also included in the 789:
DMM designed to meet 1000 volt IEC 1010 CAT III standards
Precision 1000 V, 440 mA True-RMS digital multimeter
Frequency measurement to 20 kHz
Min/Max/Average/Hold/Relative modes
Diode test and continuity beeper
Simultaneous mA and% of scale readout
20 mA DC current source/loop calibrator/ simulator
Manual Step (100%, 25%, Coarse, Fine) plus Auto Step and Auto Ramp
Externally accessible battery for easy battery changes
Specifications
Specifications: Fluke 789 FC ProcessMeter™ and Temperature Kit
Fluke 789 ProcessMeter™ with Fluke Connect™
Specifications
Current measurement
Range
0-1 A AC or DC
Resolution
1 mA
Accuracy
0.2% + 2 LSD (DC)
Range
0-30 mA
Resolution
0.001 mA
Accuracy
0.05% + 2 lSD
Current sourcing
Range
0-20 mA or 4-20 mA
Resolution
0.05% of span
Drive capability
24 V Compliance or 1200 Ω @ 20 mA
Frequency
to 19.999 kHz, 0.005% + 1 LSD
Continuity
Beeps for resistance < 100 Ω
Voltage measurement
Range
0-1000 V AC (true-rms) or DC
Resolution
0.1 mV to 1.0 V
Accuracy
0.1% Rdg + 1 LSD (V DC)
Resistance measurement
to 40 MΩ, 0.2% + 1 LSD
Diode test
2.0 V shoes diode voltage drop
Display current and % of span
Yes
Auto Step, Auto Ramp
Yes
Environmental Specifications
Operating temperature
-20°C to 55°C
Storage temperature
-40°C to 60°C
Humidity (without condensation)
95% up to 30°C
75% up to 40°C
45% up to 50°C
35% up to 55°C
Temperature coefficient
0.05 x (specified accuracy) per °C (for temperatures < 18°C or > 28°C)
Safety Specifications
Electrical safety
Designed in accordance with IEC 1010-1, ANSI/ISA S82.01-1994 and CAN/CSA C22.2 No 1010.1-92
Overvoltage category
IEC 1010-1 CAT III 1000 V
IEC 1010-1 CAT IV 600 V
Maximum voltage
1000 V RMS
Mechanical and General Specifications
Size (H x W x L)
50 x 100 x 203 mm (1.25 x 3.41 x 7.35 in)
Weight
610 g (1.6 lbs)
Batteries
4 AA alkaline batteries
Warranty
3 years
Battery life
140 hours typical (measurement), 10 hours typical (sourcing 20 mA)
Shock and vibration
Random, 2 g, 5-500 Hz
1 meter drop test

Fluke t3000 FC Wireless K-Type Temperature Module
General Specifications
Range K-Type
-200°C to 1372°C
Resolution
0.1°C
Accuracy
±[0.5% + 0.5°C] counts
Input terminals
K-type mini
LCD w/backlight
3 ½ digits
Log rate/interval
1 sec minimum/adjustable by PC
Battery type
2 AA, NEDA 15 A, IEC LR6
Battery life
400 hours
Memory
Record up to 65,000 readings
RF communications
2.4 GHZ ISM Band
RF communication range
Open air, unobstructed
Up to 20 m
Obstructed, sheetrock wall
Up to 6.5 m
Obstructed, concrete wall or steel electrical enclosure
Up to 3.5 m
Operating temperature
-10°C to +50°C
Storage temperature
-40°C to +60°C
Temperature coefficient
0.01% of reading +0.03°C per °C
Temperature scale
ITS-90
Operating humidity
90% at 35°C, 75% at 40°C, 45% at 50°C
Altitude
Operating
2,000 m
Storage
12,000 m
EMC
EN 61326-1:2006
Safety compliance
IEC 61010-1, CAT I, 3rd edition Pollution Degree 2
Certifications
CSA, CE, FCC: T68-FBLE IC: 6627A-FBLE
Ingress Protection (IP) rating
IP42
Pollution Degree
2
Size (H x W x D)
16.5 x 6.35 x 1.4 cm (6.5 x 2.5 x 1.4 in)
Weight
.22 kg (8 oz)
Not compatible with Fluke CNX test tools
Includes
Includes: Fluke 789 FC ProcessMeter™ and Temperature Kit
Fluke 789 ProcessMeter
Fluke t3000 FC Wireless K-Type Temperature Module
Fluke ir3000 FC Connector
TL71 Premium Test Lead Set
AC72 Alligator Clips
Four (4) AA alkaline batteries (installed)
Users' manual
Quick reference guide