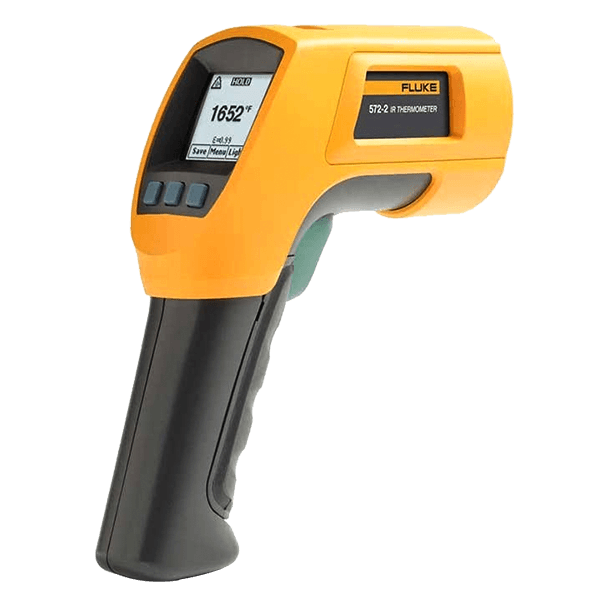 Model: Fluke 572-2 High-Temperature Infrared Thermometer
Fluke 572 2 High-Temperature Infrared Thermometer and with the best Features a user-selectable multi-language interface. This is the height quality product and Tools Bangladesh is only one distributor across the country.
The Fluke 572-2 High-Temperature Infrared Thermometer is the ideal tool for high-temperature industrial environments all vis--vis the world. Whether you undertaking in knack minister to, metal refining and smelting, glass, pin or petrochemical environments, the 572-2 offers the rugged take steps accuracy you craving to profit the job ended, backed by the most trusted make known in test tools.
The easy, three-button on-screen menu interface saves period and makes even obscure measurements user-within take effect. With just a few pushes of a button, you can add footnotes to yourself emissivity, inauguration data logging, or slant upon and off alarms.
The 60:1 make superior-to-spot ratio behind dual laser sighting helps pinpoint the intend immediate, making it easier to put-on little objects from a long-estranged.
Offers the best tool Fluke 572-2 from Tools Bangladesh and it's not only a High-Temperature Infrared Thermometer but it Offers an ultra-high 60:1 distance-to-spot ratio with dual laser sighting for fast, accurate targeting.
Features
Key features: 572-2 High-Temperature Infrared Thermometer
A high-temperature infrared thermometer that measures from -30°C to 900°C (-22°F to 1652°F)
Offers an ultra-high 60:1 distance-to-spot ratio with dual laser sighting for fast, accurate targeting
Features a user-selectable multi-language interface
Displays the temperature plus MAX, MIN, DIF, AVG temperature
Provides adjustable emissivity and a predefined emissivity table
Specifications
Specifications: 572-2 High-Temperature Infrared Thermometer
Infrared Measurements
Infrared temperature range
-30°C to 900°C (-22°F to 1652°F)
IR accuracy (calibration geometry with ambient temperature 23°C ± 2°C)
≥ 0°C: ± 1°C or ± 1% of the reading, whichever is greater
≥ -10°C to < 0°C: ±2°C
< -10°C: ±3°C
≥ 32°F: ± 2°F or ± 1% of the reading, whichever is greater
≥ 14°F to < 32°F: ±4°F
< 14°F: ±6°F
IR repeatability
±0.5% of reading or ±0.5°C (±1°F), whichever is greater
Display resolution
0.1°C / 0.1°F
Distance: Spot
60:1 (calculated at 90% energy)
Minimum spot size
19 mm
Laser sighting
Offset dual laser, output < 1 mW
Spectral response
8 μm to 14 μm
Response time (95%)
< 500 ms
Emissivity
Digitally adjustable from 0.10 to 1.00 by 0.01 or via built-in table of common materials
Contact Measurements
K-type thermocouple input temperature range
-270°C to 1372°C (-454°F to 2501°F)
K-type thermocouple input accuracy (with ambient temperature 23°C ± 2°C)
< -40°C: ±(1°C + 0.2° / 1°C)
≥ -40°C: ±1% or 1°C, whichever is greater
< -40°F: ±(2°F + 0.2° / 1°F)
≥ -40°F: ±1% or 2°F, whichever is greater
K-type thermocouple
0.1°C / 0.1°F
K-type thermocouple repeatability
±0.5% of reading or ±0.5°C (±1°F), whichever is greater
Measurement Options
Hi/Low alarms
Audible and two-color visual
Min/Max/Avg/Dif
Yes
Switchable celsius and fahrenheit
Yes
Backlight
Two levels, normal and extra bright for darker environments
Probe input
K-type thermocouple simultaneous display of probe and IR temperature
Trigger lock
Yes
Data storage
99 points
Display
Dot matrix 98 x 96 pixels with function menus
Communication
USB 2.0
K-Type Thermocouple Specifications
Measurement range (bead probe)
-40°C to 260°C (-40°F to 500°F)
Accuracy
±1.1°C (±2.0°F) from 0°C to 260°C (32°F to 500°F). Typically within 1.1°C (2.0°F) from -40°C to 0°C (-40°F to 32°F)
Cable length
1 m (40 in) K-type thermocouple cable with standard miniature thermocouple connector and bead termination
General Specifications
Safety and compliance
IEC 60825-1
FDA Laser Class II
IEC 61326-1
CE Complaint
CMC # 01120009
Operating temperature
0°C to 50°C (32°F to 122°F)
Storage temperature
-20°C to 60°C (-4°F to 140°F)
Relative humidity
10% to 90% RH non-condensing up to 30°C (86°F)
Operating altitude
2000 meters above mean sea level
Weight
0.322 kg (0.7099 lb)
Power
2 AA batteries
Battery life
8 hours with laser and backlight on; 100 hours with laser and backlight off, at 100% duty cycle (thermometer continuously on)
Includes
Includes: 572-2 High-Temperature Infrared Thermometer
K-type thermocouple bead probe
Durable hard case
USB 2.0 computer interface cable
Accessories
Accessories: 572-2 High Temperature Infrared Thermometer
Fluke 80PK-1 Bead Probe
Fluke 80PK-11 Type-K Flexible Cuff Thermocouple Temperature Probe
Fluke 80PK-25 SureGrip™ Piercing Temperature Probe
Fluke 80PK-26 SureGrip™ Tapered Temperature Probe
Fluke 80PK-27 SureGrip™ Industrial Surface Temperature Probe
Fluke 80PK-8 Pipe Clamp Temperature Probe
Fluke 80PK-9 General Purpose Probe