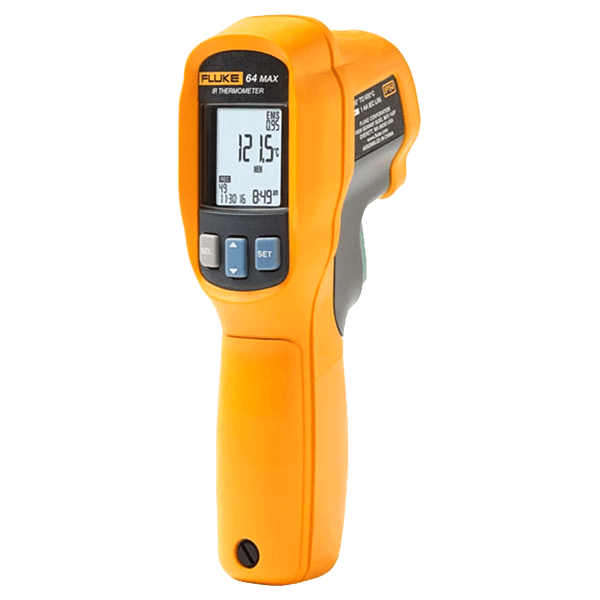 Model: Fluke 64 MAX IR Thermometer
Fluke 64 MAX thermometer is an accurate and repeatable measurement tool. And also Fluke 64 MAX thermometer is giving Flashlight and large, easy-to-read backlit LCD display for easy viewing even in a dark environment.
The Fluke 64 MAX thermometer has the precision you mannerism to do something your job competently and will not rupture the budget. Designed and tested to survive a 3-meter slip, you can go to the lead upon this lightweight, a compact infrared thermometer to play a role in the make public of you dependence it to add details to even in the harshest environments and once you vis-a-vis not skillful to be there.
We Tools Bangladesh is providing the best tools of IR Thermometer which is working with accurate length. So never mistake that because stock limited.
Features
Key features: Fluke 64 MAX IR Thermometer
Precise laser technology for more accurate and repeatable measurements
Temperature accuracy of up to ± 1℃ or ± 1% of reading whichever is greater with 20:1 distance to spot ratio
Flashlight and large, easy-to-read backlit LCD display for easy viewing even in dark environment
IP54 rated for extra protection against airborne contaminants
Get your tool to work when you can't - set time and desired interval between measurements and Auto Capture will capture spot temperatures unattended
99 data point logging
30 hour battery life so your tool can perform as long as you need it to
Displays the minimum, maximum or average temperature, or the difference between two measurements
Hi and Lo alarms for rapid display of measurements outside set limits
Small and lightweight design fits easily into your tool box
Powered by one (1) AA alkaline battery
Specifications
Specifications: Fluke 64 MAX IR Thermometer
Key features
64 MAX
Temperature Range
-30 °C to 600 °C
(-22 °F to 1112 °F)
Accuracy (Calibration geometry with ambient temperature 23 °C +/- 2 °C
± 1.0 °C or ± 1.0 % of reading, whichever is greater
± 2.0 °C at -10 °C to 0 °C
± 3.0 °C at -30 °C to -10 °C
Optical Resolution
20 : 1
(calculated at 90 % energy)
Response Time (95 %)
< 500 ms (95% of reading)
Spectral Response
8 to 14 microns
Emissivity
0.10 to 1.00
Display Resolution
0.1 °C (0.2 °F)
Repeatability (% of reading)
± 0.5% of reading or ± 0.5 °C (whichever is greater)
Auto Capture
Set time and interval to capture up to 99 measurements
Internal memory
99 data point logging capability
Flashlight
Yes
Power
1 AA battery
Battery life
30 hours with laser and backlight on
Weight
255 g (8.99 oz)
Size
(175 x 85 x 75) mm (6.88 x 3.34 x 2.95) inches
Operating Temperature
0 °C to 50 °C (32 °F to 122 °F)
Storage Temperature
-20 °C to 60 °C (-4 °F to 140 °F) (without battery)
Operating Humidity
Non- condensing @ ≤ 10 °C (50 °F)
≤ 90 % RH @ 10 °C (50 °F) to 30 °C (86 °F)
≤ 75 % RH @ 30 °C (86 °F) to 40 °C (104 °F)
≤ 45 % RH @ 40 °C 104 °F to 50 °C (122 °F)
Operating Altitude
2,000 meters above mean sea level
Optical Resolution
12,000 meters above mean sea level
Drop test
3 meters
Implement Standard
Q/ASF01
Compliance
IEC 61010-1: Pollution Class 2
Laser Safety
IEC 60825-1 Class 2, 650 nm, < 1 mW
Ingress Protection Rating
IP 54 per IEC 60529
Warranty
3 years
Includes
Includes: Fluke 64 MAX IR Thermometer
Fluke 64 MAX IR Thermometer
Multifunction IR Thermometer 20:1 D:S
Accessories
Accessories: Fluke 64 MAX IR Thermometer