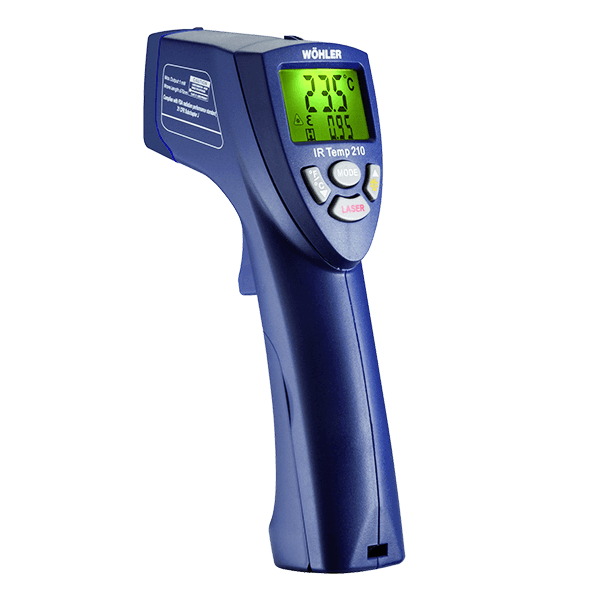 Temperature
WOHLER IR TEMP 210 INFRARED THERMOMETER
Iconic Engineering Limited
WOHLER IR TEMP 210 INFRARED THERMOMETER the most advanced thermometer that we offer the very lowest price. The delivery is always free anywhere in Bangladesh....
Model: WOHLER IR TEMP 210 INFRARED THERMOMETER
Wohler IR Temp 210 Infrared Thermometer the top class Wohler product that provides you the trusted result in any environment. Rugged, Reliable & Affordable.
Non-contact temperature measurement of surfaces. This product always top of the line. Because this product has some great features. The best features of this product that always provide an accurate result.
Wohler 210 Infrared Thermometer has LC-Display. Iconic Engineering offers the lowest price Wohler 210 Infrared Thermometer in Bangladesh. Not only we provide the best Tools but Tools Bangladesh also free delivery anywhere in Bangladesh.
Key Features: WOHLER IR TEMP 210 INFRARED THERMOMETER
LC-Display
Auswahltaste °C / °F und Verringern des Emissionsfaktors
Mode-Taste zur Einstellung des Emissionsfaktors
Ein-/Ausschalter Laser
Ein-/Ausschalter Displaybeleuchtung und Erhöhen des Emissionsfaktors
Specifications: WOHLER IR TEMP 210 INFRARED THERMOMETER
Messbereich: -40...500°C ( -40 ... 932 °F)
Genauigkeit: ±2% oder ±2°C vom Messwert
Auflösung: 0,1 °C/°F
Abstand/Messfleck: 10:1
Reaktionszeit: 500 ms
Stromaufnahme: 12 mA
maximale Leistung: 1 mW
Wellenlänge: 670 nm
Luftfeuchtigkeit: max. 80 %, nicht kondensierend
Anzeige: hintergrundbeleuchtetes LCD
Stromversorgung: 9 V Batterie
Emissionsfaktor: 0,3 bis 1,0 (einstellbar)
Auto-OFF: nach ca. 10 Sekunden
Abmessungen: 160 x 50 x 33 mm
Gewicht: ca. 140 g
Includes: WOHLER IR TEMP 210 INFRARED THERMOMETER
WOHLER IR TEMP 210 INFRARED THERMOMETER
Related Products