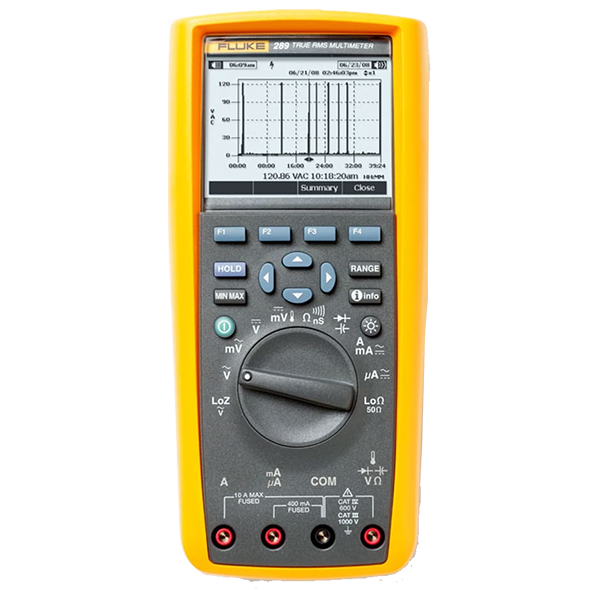 Model: Fluke 289 True-RMS Data Logging Multimeter
Fluke 289 True-RMS Data Logging Multimeter displays results in Trend Capture graphical form via a 50,000-count occurring dot matrix display and can communicate data wirelessly to smartphones and computers.
What makes Fluke 289 an each and every one-round permissible is that it is moreover an excellent multimeter then most test ranges apropos the ship. This is backed taking place by a high level of correctness and unlimited. This Fluke meter not unaccompanied fine for both electrical and electronic accomplish but along within the arena or upon the bench.
Despite beast more fit for the bench upon account of its hefty size, the 289 is a multimeter first and a data logger second. It easily proceedings concerning every one of fields, including AC/DC voltage and millivolts, all current ranges (amps, milliamps, and micro-amps), continuity and resistance, frequency, capacitance, duty cycle and pulse width, conductance, DVB, and temperature.
The main and best feature of the Fluke 289 is its exceptional data logger. It can buildup going on to 15,000 recorded activities and has TrendCapture knack so you can psychotherapy graphs in-situ. There's also a legal-become pass clock for era-stamping and data can be sent off to a smartphone or PC via Bluetooth.
The Fluke 289 is the next generation high-performance industrial logging multimeter. This Fluke is designed to solve complex problems in electronics, plant automation, power distribution, and electro-mechanical equipment. You can set your mined on Tools Bangladesh for types of fluke products.
Features
Key features: Fluke 289 True-RMS Data Logging Multimeter
Zoom on trend provides unprecedented ability to view and analyze TrendCapture data; zoom in up to 14 times.
Share results with your team using ShareLive™ video call (requires ir3000 FC wireless connector [sold separately] and no-cost Fluke Connect mobile app).
TrendCapture graphically displays logged data session to quickly determine whether anomalies may have occurred.
Selectable AC filter (smoothing mode) helps display a steadier reading when the input signal is changing rapidly or noisy.
Low Pass filter for accurate voltage and frequency measurements at the same time on adjustable speed motor drives and other electrically noisy equipment.
LoZ Volts. Low impedance voltage function for eliminating ghost voltages. Also recommended when testing for absence or presence of live power.
Adjustable recording and auto hold thresholds, specify a percentage change in the readings that begins a new event.
Large 50,000 count, 1/4 VGA dot matrix display with white backlight.
Logging function with expanded memory for unattended monitoring of signals over time. Using on-board TrendCapture users can graphically review logged readings without needing a PC. Store up to 15,000 recorded events.
Save multiple logging sessions before PC download is necessary.
Two terminal 50 ohm range with 1 milliohm resolution, 10 mA source current. Useful for measuring and comparing differences in motor winding resistance or contact resistance.
On board help screens for measurement functions. Unsure about a function - go to that function and press the "i" button.
Real time clock for automatic time stamping of saved readings.
Relative mode to remove test lead resistance from low ohms or capacitance measurements.
True-RMS AC voltage and current for accurate measurements on non-linear signals.
Measure up to 10 A (20 A for 30 seconds).
100 mF capacitance range.
FlukeView forms enable you to document, store and analyze individual readings or a series of measurements, then convert them into professional-looking documents.
Optional magnetic hanger for easy setup and viewing while freeing your hands for other tasks.
Peak capture to record transients as fast as 250 μs.
Premium test leads and alligator clips included.
Amp jack plugs included.
Limited lifetime warranty.
Specifications
Specifications: Fluke 289 True-RMS Data Logging Multimeter
Specifications
Function
DC volts
Range / resolution
50.000 mV, 500.00 mV, 5.0000 V, 50.000 V, 500.00 V, 1000.0 V
Basic accuracy
0.025%
AC volts
Range / resolution
50.000 mV, 500.00 mV, 5.0000 V, 50.000 V, 500.00 V, 1000.0 V
Basic accuracy
0.4% (True-RMS)
DC current
Range / resolution
500.00 μA, 5000.0 μA, 50.000 mA, 400.00 mA, 5.0000 A, 10.000 A
Basic accuracy
0.05%
AC current
Range / resolution
500.00 μA, 5000.0 μA, 50.000 mA, 400.00 mA, 5.0000 A, 10.000 A
Basic accuracy
0.6% (True-RMS)
Temperature (excluding probe)
Range / resolution
-200.0°C to 1350.0°C (-328.0°F to 2462.0°F)
Basic accuracy
1.0%
Resistance
Range / resolution
50.000 Ω, 500.00 Ω, 5.0000 kΩ, 50.000 kΩ, 500.00 kΩ, 5.0000 MΩ, 50.00 MΩ, 500.0 MΩ
Basic accuracy
0.05%
Capacitance
Range / resolution
1.000 nF,10.00 nF 100.0 nF, 1.000 μF, 10.00 μF, 100.0 μF, 1000 μF, 10.00 mF, 100 mF
Basic accuracy
1.0%
Frequency
Range / resolution
99.999 Hz, 999.99 Hz, 9.9999 kHz, 99.999 kHz, 999.99 kHz
Basic accuracy
0.005%
Connectivity
Optional infrared connector via Fluke ir3000 FC
General Specifications
Maximum voltage between any terminal and earth ground
1000 V
Battery type
6 AA alkaline batteries, NEDA 15A IECLR6
Battery life
100 hours minimum, 200 hours in logging mode
Temperature
Operating
-20°C to 55°C
Storage
-40°C to 60°C
Relative humidity
0 to 90% (0 to 37°C), 0 to 65% (37°C to 45°C), 0 to 45% (45°C to 55°C)
Electromagnetic compatibility
EMC EN61326–1
Vibration
Random vibration per MIL-PRF-28800F Class 2
Shock
1 meter drop per IEC/EN 61010–1 3rd Edition
Size (H x W x L)
22.2 x 10.2 x 6 cm (8.75 x 4.03 x 2.38 in)
Weight
870.9 g (28 oz)
Multiple on screen displays
Yes
True-RMS AC bandwidth
100 kHz
dBV/dBm
Yes
DC mV resolution
1 μV
Megohm range
Up to 500 MΩ
Conductance
50.00 nS
Continuity beeper
Yes
Battery/fuse access
Yes/Yes
Elapse time clock
Yes
Time of day clock
Yes
Min-max-avg
Yes
Duty cycle
Yes
Pulse width
Yes
Isolated optical interface
Yes
Auto/touch hold
Yes
Reading memory
Yes
Log to PC
Yes
Interval/event logging
Yes
Logging memory
Up to 15,000 readings
Wireless connectivity (optional)
Yes
Includes
Includes: Fluke 289 True-RMS Data Logging Multimeter
289 True-RMS Industrial Logging Multimeter
TL71 Test Leads
Batteries – 6 AA Installed
AC175 Alligator Clips
Requires Fluke ir3000 FC Infrared Connector for Fluke Connect communication
Accessories
Accessories: Fluke 289 True-RMS Data Logging Multimeter
Other (3)
Fluke TPAK ToolPak™ Magnetic Meter Hanger
Fluke MeterCleaner™ Wipes
Fluke TP912 Replacement Tips for TL910
Test leads (20)
Fluke TLK289 - Industrial Master Test Lead Set
Fluke TLK-225 SureGrip™ Master Accessory Set
Fluke H900 Test Lead Holder
Fluke TL220 SureGrip™ Industrial Test Lead Set
Fluke TL221 SureGrip™ Test Lead Extension Set
Fluke TL223 SureGrip™ Electrical Test Lead Set
Fluke TL224 SureGrip™ Insulated Test Leads
Fluke TL238 SureGrip™ Test Lead Set for High Energy Environments
Fluke TL28A Automotive Test Lead Set
Fluke TL40 Retractable Tip Test Lead Set
Fluke TL71 Premium Test Lead Set
Fluke TL75 Hard Point™ Test Lead Set
Fluke TL76 2mm/4mm Test Lead Set
Fluke TL81A Deluxe Electronic Test Lead Kit
Fluke TL940 Mini-Hook Test Leads
Fluke TL950 Mini-Pincer Test Leads
Fluke TL960 Micro-Hook Test Leads
Fluke TL970 Hook and Pincer Set
Fluke TLK287 Electronics Master Test Lead Set
Fluke TL175 TwistGuard™ Test Leads
Current clamps (5)
Fluke i410 AC/DC Current Clamp
Fluke i1010 AC/DC Current Clamp
Fluke i200 AC Current Clamp
Fluke i2000 Flex AC Current Clamp
Fluke i400 AC Current Clamp
Clips (6)
Fluke AC220 SureGrip™ Alligator Clips
Fluke AC280 SureGrip™ Hook Clips
Fluke AC283 SureGrip™ Pincer Clips
Fluke AC285 SureGrip™ Alligator Clips
Fluke AC87 Heavy Duty Bus Bar Clip Set
Fluke AC89 Heavy Duty Insulation Piercing Test Clip
Adapters (3)
Fluke IR189USB USB Cable adapter
Fluke 80AK-A Thermocouple Adapter
Fluke TP920 Test Probe Adapter Set
Cases (3)
Fluke C116 Soft Carrying Case
Fluke C550 Tool Bag
Fluke C781 Meter Case
Lights (3)
Fluke LVD1A Non-Contact Voltage Tester with LED Flashlight
Fluke L200 Probe Light
Fluke L215 SureGrip™ Kit with Probe Light and Probe Extenders
Fiber optics (1)
Fluke FOM Fiber Optic Meter
High voltage probes (1)
Fluke 80K-15 High Voltage Probe
Probes (5)
Fluke 80K-40 High Voltage Probe
Fluke 80BK-A Integrated DMM Temperature Probe
Fluke 80PK-1 Bead Probe
Fluke 80PK-26 SureGrip™ Tapered Temperature Probe
Fluke 80T-150UA Universal Temperature Probe
Automotive (1)
Fluke PV350 Pressure Vacuum Module
Kits (1)
Fluke L210 Probe Light Kit
Temperature calibrators (1)
Fluke 80PK-EXT Extension Wire Kit
Visual IR thermometers (1)
Fluke 80TK Thermocouple Module
Cables (3)
Fluke TL930 Patch Cords (60 cm)
Fluke TL932 Patch Cords (90 cm)
Fluke TL935 Patch Cords (60, 90, 120 cm)
Test probes (6)
Fluke TL910 Electronic Test Probes
Fluke TP38 Slim Reach Test Probe Set
Fluke TP2 Slim Reach Test Probes
Fluke TP220 SureGrip™ Industrial Test Probes
Fluke TP4 Slim Reach Test Probes
Fluke TP80 Electronic Test Probes
Wireless (1)
Fluke ir3000 FC Connector