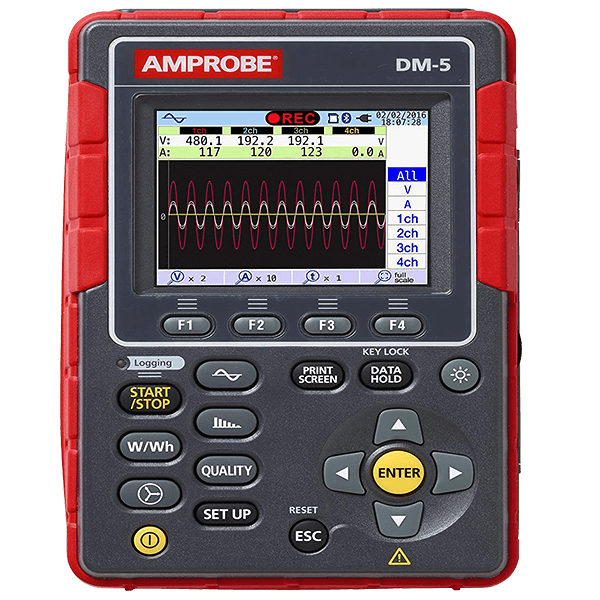 Model: Amprobe DM-5 Power Quality Analyzer
Amprobe DM-5 Power Quality Analyzer is reliable and important that are Multiple data visualization options allow you to quickly visualize your recorded data to identify potential issues
The Amprobe DM-5 Power Quality Analyzer allows you to easily and speedily discover the source and magnitude of skill air issues. At half the size of previous models, the compact DM-5 brings cartoon and efficiency to proficiency setting jobs ranging from routine maintenance to in-reforest troubleshooting of individual machinery and proficiency distribution panels.
The DM-5 software provides a full analysis together in the middle of quantity data visualization options that allows you to speedily visualize your recorded data to identify potential issues. Built for use on even the largest facilities, the Amprobe DM-5 is safety tested to meet the world's most prestigious safety standards and is rated to CAT IV 300 V, CAT III 600 V, CAT II 1000 V.
Tools Bangladesh offers Amprobe DM-5 Power Quality Analyzer with the best multiple software device which is works appropriately.
Features
Key Features: Amprobe DM-5 Power Quality Analyzer
Full Analysis with Included Software: Multiple data visualization options allow you to quickly visualize your recorded data to identify potential issues.
Graph peak energy demand Download Suite 3.0.1.1 features a wide range of visual tools to view data quick and easy. Using the generic historical graph you can graph peak energy demand, see data over an extended time frame and zoom in and out to see data in a different view.
Copy and paste raw data and charts This software allows you to copy and paste data and graphs easily. Simply export raw data into an excel document or copy and paste graphs to print. The DM-5 software is simple and easy-to-use!
Visualize measurements separately and together: Quickly analyze your recorded data to identify potential issues with data visualization. See how data relates between different visualizations.
Quick Setup with On-Screen Guide: A step-by-step setup guide helps ensure you capture the right measurements.
Real-time remote monitoring on compatible PC devices via Bluetooth communication
Simultaneously measures power, harmonics, waveform, power quality (voltage: 3-channel, current: 4-channel)
Test parameters: voltage, current, active/reactive/apparent power, PF and frequency all on one screen.
Power quality events: Swell, Dip, Interruption, transients, Inrush current, and flicker.
Automatic recording with memory for up to 1,000 parameters at user defined intervals.
Comes complete with measurement accessories, PC software, and large carrying case.
Specifications
Specifications: Amprobe DM-5 Power Quality Analyzer
Features
DM-5 Power Quality Analyzer
Wiring connection
1P2W, 1P3W, 3P3W, 3P4W
Measurements and parameters
Voltage, current, frequency, active power, reactive power, apparent power, active energy, reactive energy, apparent energy, power factor (cos ø), neutral current, demand, harmonics, quality (swell/dip/interruption, transients/overvoltage, inrush current, unbalance rate), capacitance calculation for PF correction unit, flicker
Voltage (rms)
Range: 600.0 / 1000 V
Accuracy: ±0.2% + 0.2%f.s.(sine wave, 40 Hz to 70 Hz)
Allowable input: 1% to 120% of each range (rms). 200% of each range (peak)
Display range: 0.15% to 130 % of each range
Crest factor: 3 or less
Sampling speed of voltage transient: 24 μs
Input impedance: approx. 1.67 MΩ
Current (rms)
Accuracy: ±0.2% + 0.2%f.s. + accuracy of flex current sensor (sine wave, 40 Hz to 70 Hz)
Allowable input: 1% to 110% of each range (rms). 200% of each range (peak)
Display range: 0.15% to 130 % of each range
Crest factor: 3 or less
Input impedance: approx. 100 kΩ
Swell / dip / interruption
Range: same as Voltage (rms)
Accuracy: ±1.0% of nominal voltage
Threshold value: In percentage of nominal voltage value
Power and energy
CT-53 flex current sensor (3-ch): max. 6000 kW
CT-500 flex current sensor (1-ch): max. 1000 kW
Active power accuracy: ±0.3% + 0.2%f.s. + accuracy of flex current sensor (PF 1, sine wave, 40 Hz to 70 Hz) Influence of power factor: ±1.0% (PF 0.5, 40 Hz to 70 Hz )
Wh: 0.00000 mWh to 9999.99 TWh
VAh: 0.00000 VAh to 9999.99 TVAh
varh: 0.00000 varh to 9999.99 Tvarh
Power factor
Display range: -1.000 to 0.000 to 1.000
Accuracy: ±1dgt against each calculated value (for sum: ±3dgt)
Harmonics
Harmonics order (n): 1 to 50th
Inter-harmonics order (n): 1 to 50th
Volts: 0.0% to 100.0%, accuracy (≥3% at 100 V nominal voltage): ±10%
accuracy (<3% at 100 V nominal voltage): ±0.3% of nominal voltage
accuracy (1000 V range): ±0.2% + 0.2%f.s
Amps: 0.0% to 100.0%, accuracy (≥10% to max. input range): ±10% + flex current sensor
accuracy (<10% to max. input range): ±1.0% + flex current sensor
Watts: 0.0% to 100.0%, accuracy: ±0.3% + 0.2%f.s. + accuracy of flex current sensor (PF 1, sine wave, 50/60 Hz)
THD: 0.0% to 100.0%, Phase angle: 0.0° to ± 180°
Flicker
Displayed items: Pst(1min), Pst, Plt, Max Pst, Max Plt, V, time left
Measurement method: Complied with IEC 61000-4-30 and IEC 61000-4-15 Ed.2
Accuracy: Pst (max.20): ±10% according to IEC 61000-4-15
Unbalance
Volts: 0.00% to 100.00%, accuracy: ±0.3% at 50/60 Hz, sine wave (0.00% to 5.00% according to IEC 61000-4-030)
Current: 0.00% to 100.00%
Transient
Approx. 40.96 ksps (every 2.4 μs)
Range: 50 V to 2200 Vdc
Accuracy: ±0.5% at 1000 Vdc
Inrush current
Range: same as Current (rms)
Accuracy: ±0.4% + 0.4%f.s. + accuracy of flex current sensor
Threshold value: In percentage of the measurement range
Capacitance
Range: 0.000 nF to 9999 F, 0.000 kvar to 999 kvar
Specifications
Display
3.5inch, TFT, QVGA(320xRGBx240)
Display update
Every 1 second*
*There may be time lag in display update (max. 2 seconds) due to arithmetic processing. However, no time lag between the recorded data and the time stamp
Operating temperature and humidity
32°F to 104 °F (0 °C to 40 °C), ≤ 85 %RH (no condensation)
Guaranteed accuracy at 73 °F ± 9 °F (23 °C ± 5 °C), ≤ 85 %RH (no condensation)
Operating altitude
0 to 6,561 ft (0 to 2,000 m)
Pollution degree
2
Dust/water proof
IP 40
Drop proof
3.3 ft (1 m)
Storage temperature and humidity
-4 to 140 °F (-20 °C to 60 °C), ≤ 85 % RH (no condensation)
Power supply
Battery: 6 x AA 1.5 V Alkaline battery (LR6)
AC power supply: AC100 V to AC 240 V, 50 Hz to 60 Hz, 7 VAmax
Battery life
3 hours (typical)
Current consumption: 1.0 A at 3.0 Vdc (typical)
EMC
Meets EN 61326-1
Safety compliance
UL/IEC 61010-1, IEC 61010-031, IEC 61010-2-030
Power quality measurement
Complies with IEC 61000-4-030 ed.2 Class S
Certification
Dimensions (L x W x D)
6.9 x 4.7 x 2.7 in (17.5 X 12 X 6.8 cm)
Weight
Approx. 2.0 lb (900 g) with batteries installed