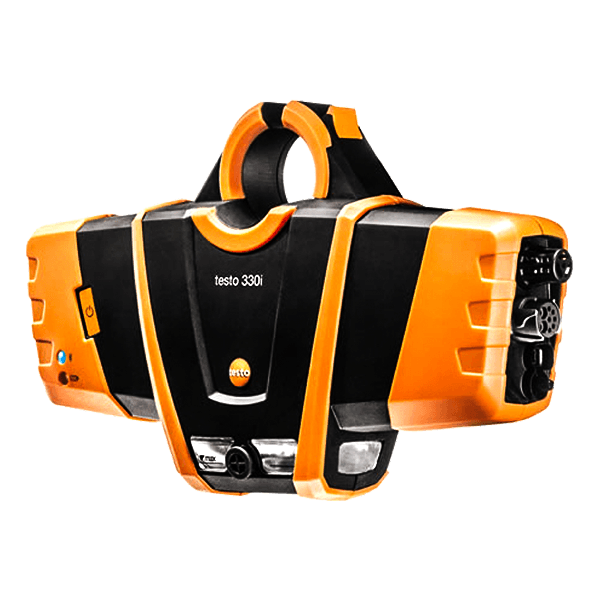 Model: Testo 330i Flue Gas Analyzer
The Testo 330i Flue Gas Analyzer rugged reliable and trusted that advanced set will enable you to overcome all the challenges that crop up when commissioning and servicing heating systems.
The Testo 330i advanced set contains the flue gas analyzer, a flue gas probe and a temperature probe, along with practical accessories.
Easily use that is flexible and the Testo brand is now very popular. You can get it to your doorstep if you order at Tools Bangladesh. We can deliver all over in Bangladesh.
Features
Key Features: Testo 330i Flue Gas Analyzer
Operation independent of measuring location and display of readings via smartphone or tablet and the testo 330i App
Paperless documentation and report creation on site with the testo 330i App
Reliable attachment of the flue gas probe with the testoFix probe holder
Practical accessories, including probes and temperature probe
Specifications
Specifications: Testo 330i Flue Gas Analyzer
Differential Pressure - Piezoresistive

Measuring range

0 to 300 hPa

Accuracy

±0.5 hPa (0.0 to +50.0 hPa)

±1 % of mv (+50.1 to +100.0 hPa)

±1.5 % of mv (Remaining Range)

Resolution

0.1 hPa
Flue gas O₂

Measuring range

0 to 21 Vol.%

Accuracy

±0.2 Vol.%

Resolution

0.1 Vol.%
Flue gas CO (with H₂-compensation)

Measuring range

0 to 8000 ppm

Accuracy

±10 ppm or ±10 % of mv (0 to 200 ppm)

±20 ppm or ±5 % of mv (201 to 2000 ppm)

±10 % of mv (2001 to 8000 ppm)

Resolution

1 ppm
CO determination (with H₂-compensation), automatic dilution

Measuring range

0 to 30000 ppm

Accuracy

±200 ppm or ±20 % of mv (0 to 30000 ppm)

Resolution

1 ppm
Flue gas NO

Measuring range

0 to 3000 ppm

Accuracy

±5 ppm (0 to 100 ppm)

±5 % of mv (101 to 2000 ppm)

±10 % of mv (2001 to 3000 ppm)

Resolution

1 ppm
Option
Flue gas Draught

Measuring range

-9.99 to +40 hPa

Accuracy

±0.02 hPa or ±5 % of mv (-0.50 to +0.60 hPa)

±0.03 hPa (+0.61 to +3.00 hPa)

±1.5 % of mv (3.01 to +40.00 hPa) (the greater value applies)

Resolution

0.01 hPa
Temperature

Measuring range

-40 to +1200 °C

Accuracy

±0.5 °C (0.0 to +100.0 °C)

±0.5 % of mv (Remaining Range)

Resolution

0.1 °C (-40 to +999.9 °C)

1 °C (Remaining Range)
dependent on the thermocouple
Flue gas degree of effectivity, Eta (calculated)

Measuring range

0 to 120 %

Resolution

0.1 %
Flue gas loss (calculated)

Measuring range

0 to 99.9 %

Resolution

0.1 %
Flue gas CO₂ calculation (calculated from O₂)

Measuring range

Display range 0 to CO₂ max

Accuracy

±0.2 Vol.%

Resolution

0.1 Vol.%
General technical data

Dimensions

270 x 160 x 57 mm

Operating temperature

-5 to +45 °C

Power supply

Rech. batt. block 3.7 V / 2.6 Ah; Mains unit 6 V / 1.2 A (optional)

System requirements

requires iOS 7.1 or newer; requires Android 4.3 or newer; requires mobile end device with Bluetooth 4.0

Maximum memory

500000 readings

Storage temperature

-20 to +50 °C

Weight

720 g (excluding battery)
Includes
Includes: Testo 330i Flue Gas Analyzer
Testo 330i Flue Gas Analyzer
Accessories
Accessories: Testo 330i Flue Gas Analyzer
International mains unit
Spare thermal paper for printer, permanent
Instrument case for testo 330i (height: 180 mm)
Spare battery 2600 mA
USB connection cable, instrument-PC
O2 sensor for testo 330-1 LL/-2 LL
testoFix probe holder
Hose extension - probe-instrument extension hose (length 2.8 m)
Instrument case for testo 330i (height: 130 mm)