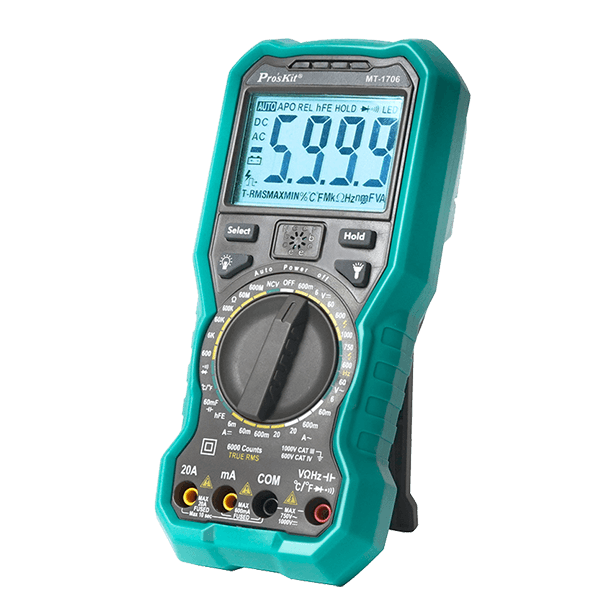 MT-1706 3-5/6 True-RMS Multimeter is designed for accurate measurements, ideal for a wide variety of electrical and electronic testing applications.
Features
Key Features: Proskit MT-1706-C 3-56 True RMS Multimeter
Non Contact Voltage Detector
Tests 90-1000V and identifies live wire
Voltage level indicator
To show the voltage signal intensity
Large LCD w/ Backlight
LCD display with backlight function allows for data reading in dark area
Simple and Intuitive Operation
Desigh with 3 5/6 digits 5999 counts provide accurate, easy to use and great to understand reading
Versatile, Safe and Accurate
Special design for ACV/ACA Ture-RMS measurement.
Measuring DCV/ACV/DCA/ACA/Resistance, Capacitance/Hz Duty Cycle/Temperature/hFE and Diode
All of its inputs are protected to CE, IEN61010-1 CAT IV 600V, CATIII 1000V safety rated.
Friendly Extra Functions
Continuity with beeper, Duty cycle, Relative reference, Data hold, Auto power off, Low battery indication and Input alert.rotection ensures uninterrupted operation and long life.
Specifications
Specifications: Proskit MT-1706-C 3-56 True RMS Multimeter
Specifications
MT-1706-C
DCV
600mV/6V/60V/600V/1000V ±(0.5%+3d)
ACV TrueRMS

6V/60V ±(0.8%+3d)

600V/750V ±(1%+10d)

Frequency Response :40Hz-1KHz
DCA

 6mA/60mA/600mA±(0.8%+3d)

20A ±(1.5%+10d)
ACA TrueRMS

60mA/600mA±(1%+3d) 20.00A±(2%+10d)

Frequency Response :40Hz-1KHz 
Frequency (Hz)
10Hz~10KHz±(1.0%+3d)
Resistance

600Ω/6kΩ/60kΩ/600kΩ±(0.8%+3d)

60MΩ/600MΩ±(1.2%+30d)

Capacitance
6nF ~9.999nF, ±(4%+30d)
10nF~6mF, ±(2.5%+10d)
6mF~60mF,±(5%+30d)
Temperatures
-20°C~1000°C/-4°F~1832°F±(1.0%+3d)
Power
9V(6F22*1) ( included)
Extra function

NCV detection, LED illumination,Continuity test, Diode test.

Transistor test, Data hold, Auto power off, Low battery indication,LCD backlight

Weight
315g (without battery)
Dimension
190*89*53mm
Individual packing
Color Box
Includes
Includes: Proskit MT-1706-C 3-56 True RMS Multimeter
Proskit MT-1706-C 3-56 True RMS Multimeter