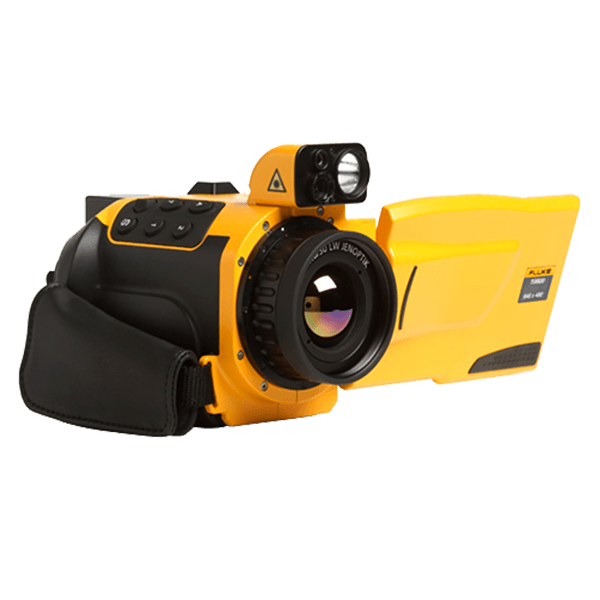 Model: Fluke TiX620 Infrared Camera
Fluke TiX620 Infrared Camera is giving a 640 x 480 resolution infrared camera with advanced focus and a large 5.6 inch high-resolution LCD screen. Fluke TiX620 is accurate rugged and trusted and Tools Bangladesh is offering it with the best price.
Fluke TiX620 delivers crisp, pure thermal images later 640 x 480 resolute at an affordable price. With the Fluke TiX620, you can conduct inspections from a safe isolate and yet profit spectacular, detailed infrared images back the 32x nearly-camera digital zoom.
You can impression more detail in all images in a footnote to the large 5.6 inches high utter LCD screen and get high measurement exactness and precision images in imitation of 640 x 480 unlimited. Save grow earliest focusing The TiX620 can child maintenance you era focusing behind believer autofocus and directory focus.
And you can name you will focus to the extreme and eliminate out of focus images then EverSharp multifocal recording that takes a stack of IR Images at one mature and combines them into one sufficiently focused image.

You can buy Tix620 that is rugged reliable, trusted and it has stored at Tools Bangladesh. If you want to buy TIX620 then you have to right place where are not a possibility.
Features
Key features: Fluke TiX620 Infrared Camera
640 x 480 resolution infrared camera with advanced focus and a large 5.6 inch high resolution LCD screen
Features 32x on-camera digital zoom to allow you to get close up shots from a safe distance
Offers multiple image transfer protocols
Provides the sharpest ever IR-Fusion® images with an 8 MP visible light camera
Specifications
Specifications: Fluke TiX620 Infrared Camera
Image Quality
IFOV (spatial resolution)
0.85 mRad
Image resolution (pixel)
640 x 480 (307,200 pixels)
Frame rate (@ max. image resolution)
30 and 9 Hz
SuperResolution & Dynamic SuperResolutin (resolution enhancement)
No
Subwindowing modes available - subwindowing options are not available on 9 Hz models: (add on at time of order)
Option 1: 384 × 288
Field of View (FOV) w/standard 30mm lens
32.7° x 24.0°
Thermal sensitivity (NETD)
< 0.04ᵒ C at 30ᵒ C target temp (40 mK)
Spectral range
7.5 µm to 14 µm
IR-Fusion® Technology
AutoBlend™ mode
Yes
Viewing modes
Picture-in-picture, continuous blending, color alarms (above and below user defined temperatures)
Focus System
LaserSharp® Auto Focus
No
Auto focus
Yes
Manual focus
Yes, with the touch of a finger for tighter views
EverSharp multifocal recording
Yes, Multifocal recording captures images from different focal distances and combines them into one image displaying each object sharply for the best image quality
Temperature Measurement
Range
-40 °C to 600 °C (-40 °F to 1112 °F)
Accuracy
± 2 K or ± 2 %
Correction functions
Emissivity (manual or material table)
Transmissivity, ambient temperature, humidity (option)
Data Storage and Image Capture
Image/video storage
SDHC memory card
Interfaces for image/data transfer
Supported in camera data ports: Image transfer, SD card, USB 2.0, video output DVI-D (HDMI). GigE vision and RS232
Supported in SmartView® Software: SD Card
General Specifications
Laser pointer
Yes, laser class: 2
Laser distance meter
None
Display
Extra-large 5.6" color TFT display, 1280 × 800 pixel resolution, Suitable for daylight operation
Geo-localization
Built-in GPS for geo-referencing
Digital visible light camera
Up to 8 megapixel resolution for image and video recording
Digital zoom
Up to 32x digital zoom
Text annotation
Yes
Voice annotation
Yes
Audio
Integrated microphone and loudspeaker for voice annotations
A/D conversion
16 bit
Power supply
External: 12 VDC ... 24 VDC
Battery: Standard Li-Ion video camera battery
Replaceable Smart Batteries with LED level indicator
One
Operating temperature
-25 °C to +55 °C (-13 °F to 131 °F)
Storing temperature
-40 °C to +70 °C (-40 °F to 158 °F)
Humidity
Relative humidity 10 % to 95 %, non-condensing
Shock
Operational: 25G, IEC 68-2-27
Vibration
Operational: 2G, IEC 68-2-6
Protection class
IP54
Ergonomics
Camcorder
Viewfinder
None
Dimensions (with standard 1.0/20 mm lens)
220 x 125 x 155 mm (8.6 x 4.9 x 6.1 in)
Weight (with standard 30 mm lens)
1.5 kg (3.3 lb)
Measurement functions (selection)
Multiple measurement spots and Regions of Interest, hot/cold spot detection, isotherms, differences
Automatic functions (selection)
Focus, image, level, range, NUC, lens recognition, image optimization, alarm sequence
SmartView® software
Yes
Supported languages
Czech, Dutch, English, Finnish, French, German, Hugarian, Italian, Japanese, Korean, Polish, Portuguese, Russian, Simplified Chinese, Spanish, Swedish, Traditional Chinese and Turkish
Warranty
2 years
Includes
Includes: Fluke TiX620 Infrared Camera
One rechargeable battery
Battery charger and adapter
AC adapter
SD card reader
Protective lens cap
Hand and neck straps
Carrying case
Warranty card and safety instructions
Calibration certificate
Accessories
Accessories: Fluke TiX620 Infrared Camera
Thermal imaging (2)
Wide Angle Infrared Lens
Telephoto Infrared Lens
Batteries (1)
FLK-XBattery
Other (2)
FLK-XCalibration
FLK-XSubwindow
Chargers (2)
FLK-XCharger
FLK-XPowerPlug
Cables (1)
FLK-XHDMI