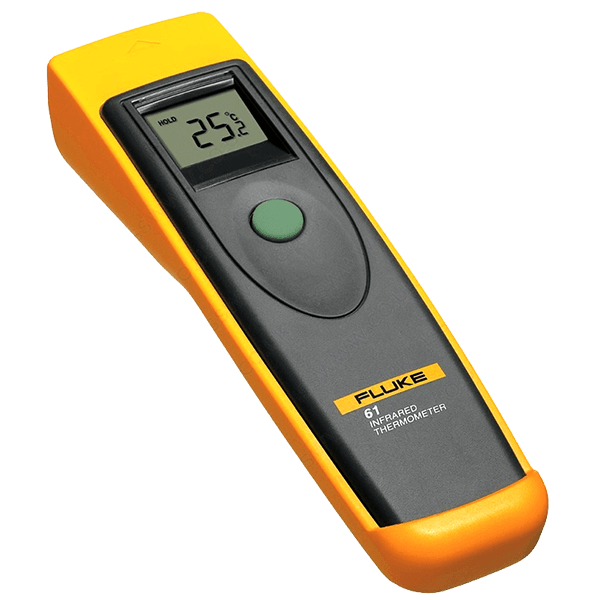 Model: Fluke 61 Mini Handheld Infrared Thermometer
Fluke 61 Mini Handheld Infrared Thermometer Provides easy targeting bright laser beam and it Rugged versatile IR thermometer for non-contact temperature applications.
Fluke 61 IR Thermometer captures accurate measurements in high-temperature situations
Reach for a rugged Fluke 61 IR Thermometer for jobs that require measuring temperature in hard-to-achieve, hot, rotating, or dangerous situations. The Fluke 61 non-right of mannerism in thermometer delivers accurate readings beyond an expansive temperature range from -18 to 275C (-0 to 525F). Plus, the enhanced optics permit you to combat smaller objects supplementary away.
Monitor the status of electrical motors and electrical panels, research heating, and expression problems and diagnose car malfunctions all later than a pleasurable, easy-to-use, handheld non-right to use a thermometer.
Tools Bangladesh is now providing Fluke 61 Mini Handheld Infrared Thermometer with the best price in Bangladesh so, do not late quick pic it as soon as possible.
Features
Key features: 61 Mini Handheld Infrared Thermometer
Rugged versatile IR thermometer for non-contact temperature applications
Provides easy targeting bright laser beam
Measures temperatures from -18 to 275°C (-0 to 525°F) with 0.2°C (0. 5°F) resolution
Clearly presents data at a glance on the large backlit display
Includes a shock-absorbing holster to increase ruggedness
Provides an 8:1 distance to spot ratio
Specifications
Specifications: 61 Mini Handheld Infrared Thermometer
Specifications
Backlit display for use in poorly lit areas
Yes
Holds temperature readings
Yes
Range
-18 to 275°C (-0 to 525°F)
MIN/MAX/AVG
N/A
Datalogging
N/A
Distance to spot ratio
8:1
Hi-Lo alarm
N/A
Optional RTD probe (contact temperature measurement)
N/A
Emissivity
Fixed at 0.95
Measurement Accuracy
-18°C (0°F) to -1°C (30°F)
±3°C (5°F)
above -1°C (30°F) to 275°C (525°F)
±2% of reading or 2°C (3.5°F)
(With the instrument stable between 23-25°C)
Includes
Includes: 61 Mini Handheld Infrared Thermometer