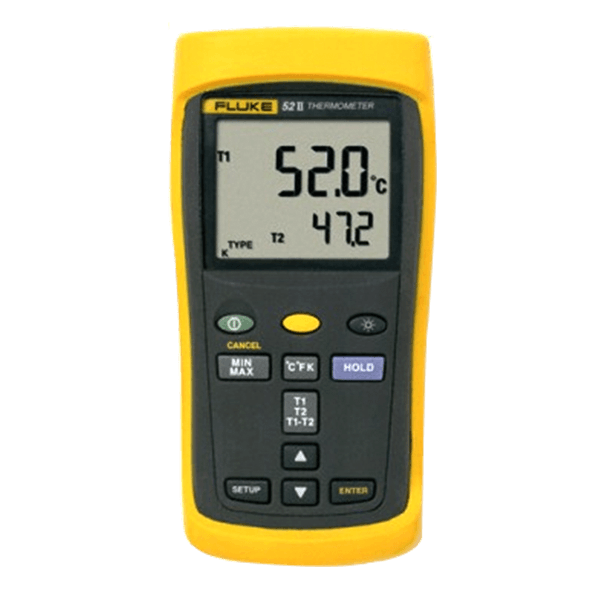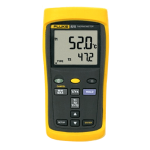 Model: Fluke 52 II Dual Probe Digital Thermometer
Fluke 52 II Dual Probe Digital Thermometer, Dual-input digital thermometer for the lab, QA, process calibration, food safety, and HVAC.
The Fluke 52 II dual-input digital thermometer delivers choking recognition as well as laboratory authenticity (0.05% + 0.3C). You can use the 52 II to anxiety two admission temperature inputs simultaneously on the subject of motors, insulation, breakers, pipes, corroded connections, liquids, and wires subsequent to industrial intended J, K, T, or E-type thermocouple temperature sensors.
The user easily reached-front panel and large, backlit display make it available to view results from both inputs in complex ways. And the sleep mode feature preserves battery moving picture to manage to pay for you a typical thousand hours of operation
Tools Bangladesh offers Fluke 52 II Dual Probe Digital Thermometer which is giving Features fast response and laboratory accuracy. When you think you need a quality full product you please contact us.
Features
Key features: Fluke 52 II Dual Probe Digital Thermometer
Dual-input digital thermometer for the lab, QA, process calibration, food safety, and HVAC
Shows any combination of T1, T2, T1-T2, plus MIN, MAX, or AVG on the large backlit dual display
Features fast response and laboratory accuracy (0.05% + 0.3°C)
Includes a relative time clock on MIN, MAX, and AVG to provide a time reference for major events
Specifications
Specifications: Fluke 52 II Dual Probe Digital Thermometer
Specifications
Temperature accuracy
Above -100°C
J, K, T, E, and N-type: ±[0.05% + 0.3°C]1
R and S-type: ±[0.05% + 0.4°C]1
Below -100°C
J, K, E, and N-types: ±[0.20% + 0.3°C]1
T-type: ±[0.50% + 0.3°C]
Temperature
J-type
-210°C to 1200°C
K-type
-200°C to 1372°C
T-type
-250°C to 400°C
E-type
-150°C to 1000°C
N-type
-200°C to 1300°C1
R and S-type
0°C to 1767°C1
Temperature scale
ITS-90
Applicable standards
NIST-175
Display resolution
0.1°C, 0.1 K < 1000
1°C, 1 K ≥ 1000
1. Only the Fluke Models 53 II B and 54 II Bthermometers are capable of measuring N, R, and S-type thermocouples.
Environmental Specifications
Operating temperature
-10°C to 50°C
Storage temperature
-40°C to 60°C
Humidity (without condensation)
0% to 90%; 0°C to 35°C
0% to 70%; 0°C to 50°C
Safety Specifications
Overvoltage category
CSA C22.2 No. 1010.1 1992; EN 61010 Amendments 1,2
Agency approvals
CE, CSA, TÜV (pending)
Mechanical and General Specifications
Size (L x W x D)
173 x 86 x 38 mm
Weight
400 g
Batteries
3 AA batteries; typical 1000-hour life
Includes
Includes: Fluke 52 II Dual Probe Digital Thermometer
Impact-absorbing holster
Two 80PK-1 beaded probe thermocouples
Accessories
Accessories: Fluke 52 II Dual Probe Digital Thermometer
Fluke C101 Hard Case
Fluke C50 Meter Case
Fluke C510 Leather Meter Case
Fluke C550 Tool Bag
Fluke CXT170 Extreme Case
Fluke TPAK ToolPak™ Magnetic Meter Hanger
Fluke calibration software (1)
Fluke FlukeView® Forms Software with Cable
Temperature calibrators (4)
Fluke 700TC2 Thermocouple Plug Kit 700TC2
Fluke 80PJ-EXT Extension Wire Kit
Fluke 80PK-EXT Extension Wire Kit
Fluke 80PT-EXT Extension Wire Kit
Fluke 80CJ-M type J Male Mini-Connectors
Fluke 80CK-M type K Male Mini-Connectors
Fluke 80PK-1 Bead Probe
Fluke 80PK-22 SureGrip™ Immersion Temperature Probe
Fluke 80PK-24 SureGrip™ Air Temperature Probe
Fluke 80PK-25 SureGrip™ Piercing Temperature Probe
Fluke 80PK-26 SureGrip™ Tapered Temperature Probe
Fluke 80PK-27 SureGrip™ Industrial Surface Temperature Probe
Fluke 80PK-3A Surface Probe
Fluke 80PK-8 Pipe Clamp Temperature Probe