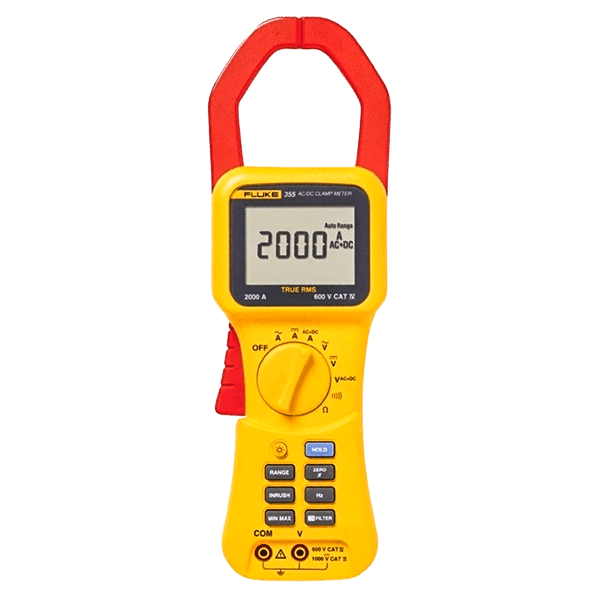 Electrical
Fluke 353 True RMS 2000 A Clamp Meter
Iconic Engineering Limited
Fluke 353 True RMS 2000 A Clamp Meter is more reliable, rugged & can be used for measuring voltage & resistance accurately. Shop now with free delivery......
Model: Fluke 353 True RMS 2000 A Clamp Meter
Fluke 353 digital clamp meter is a tool of selection for prime current clamp-on amp meter measuring up to 2000 A. The rugged, reliable & accurate clamp meter that you can trust on for your work-space.
Tools Bangladesh provides a wide range of Fluke test and measurement tools in Bangladesh. Iconic Engineering offers the lowest price Fluke 353 Clamp Meter in Bangladesh. Tools Bangladesh the biggest e-commerce site in Bangladesh to providing the best tools.
Key Features: Fluke 353 True RMS 2000 A Clamp Meter
Reliably handle a wide range of high-current applications with 2000 A AC + DC true-rms, 1400 A ac, and 2000 A DC
In-rush current measurement captures 'power-on' surge current with accuracy and repeatability
A large backlit display allows for easy visibility in low-lit areas
The large 58 mm (2.3 in) jaw capacity is suitable for large or multiple conductors
CAT IV 600 V, CAT III 1000 V rating for added user protection
Accurately measure frequency up to 1 kHz for optimum troubleshooting
Quickly analyze readings using the MIN, MAX, and AVG functions
Use the display hold feature to capture readings even when the display cannot be viewed
Use the low-pass filter to smooth out noisy loads and stabilize readings
Specifications: Fluke 353 True RMS 2000 A Clamp Meter
Electrical Specifications
Current measurement DC and AC 10 Hz to 100 Hz
Range
40 A / 400 A / 2000 A / 1400 AC RMS
Resolution
10 mA / 100 mA / 1 A
Accuracy
A: 1.5% rdg + 15 digits
A: 1.5% rdg + 5 digits
Trigger level for Inrush
0.50 A / 5.0 A / 5 A
Trigger level for Hz filter OFF
2.50 A / 2.5 A / 8 A
Trigger level for Hz filter ON
0.50 A / 2.5 A / 8 A
Crest Factor (50/60 Hz)
Range
40 A / 400 A / 2000 A / 1400 AC RMS
Crest Factor1
2 @ 33 A, 2.4 @ 27 A
2 @ 330 A, 2.4 @ 270 A
2 @ 1000 A, 2.4 @ 833 A
Current measurement AC 100.1 Hz to 1 kHz
Range
40 A / 400 A / 2000 A; 1400 AC RMS
Resolution
10 mA / 100 mA / 1 A
Accuracy
10 A: 3.5% rdg + 15 digits
10 A: 3.5% rdg + 5 digits
Trigger level for Inrush
0.50 A / 5.0 A / 5 A
Trigger level for Hz filter OFF
2.50 A / 2.5 A / 8 A
Trigger level for Hz filter ON
0.50 A / 2.5 A / 8 A
Frequency measurement
Measurement range
5.0 Hz to 1 kHz
Resolution
0.1 Hz (15 Hz to 399.9 Hz); 1 Hz (400 Hz to 1 kHz)
Accuracy – 5.0 Hz to 100 Hz
0.2% + 2 counts
Accuracy – 100.1 Hz to 1 kHz
0.5% + 5 counts
Trigger level
Refer to current and voltage tables
1. Add 2% to error spec for CF > 2
General Specifications
Batteries
Six 1.5 V AA NEDA 15 A or IEC LR6
Battery life (with typical usage, backlight off)
100 hours
Test leads
Rated to 1000 V
Weight
.814 kg (1.8 lb)
Jaw size
58 mm (2.28 in)
Dimensions (L x W x D)
300 x 98 x 52 mm (12 x 3.75 x 2 in)
Safety rating
IEC 61010-2-032, 600 V CAT IV, 1000 V CAT III
Environmental Specifications
Operating temperature
32°F to +122°F (0°C to +50°C)
Storage temperature
-4°F to 140°F (-20°C to +60°C)
Operating humidity
0 to 95% (non-condensing)
Operating altitude
2000 m
Storage altitude
10,000 m
IP rating
42 (indoor use only)
Drop test requirements
1 m
EMI, RFI, EMC
FCC part 15, IEC/EN 61326-1:1997 class B
IEC/EN 61326:1997 3V/m, performance criteria B, EN61325
Temperature coefficients
Current
0.1% of reading per °C outside 22°C to 24°C
Voltage
0.1% of reading per °C outside 22°C to 24°C
Fluke 353 True RMS 2000 A Clamp Meter
Electrical Specifications
Current measurement DC and AC 10 Hz to 100 Hz
Range
40 A / 400 A / 2000 A / 1400 AC RMS
Resolution
10 mA / 100 mA / 1 A
Accuracy
A: 1.5% rdg + 15 digits
A: 1.5% rdg + 5 digits
Trigger level for Inrush
0.50 A / 5.0 A / 5 A
Trigger level for Hz filter OFF
2.50 A / 2.5 A / 8 A
Trigger level for Hz filter ON
0.50 A / 2.5 A / 8 A
Crest Factor (50/60 Hz)
Range
40 A / 400 A / 2000 A / 1400 AC RMS
Crest Factor1
2 @ 33 A, 2.4 @ 27 A
2 @ 330 A, 2.4 @ 270 A
2 @ 1000 A, 2.4 @ 833 A
Current measurement AC 100.1 Hz to 1 kHz
Range
40 A / 400 A / 2000 A; 1400 AC RMS
Resolution
10 mA / 100 mA / 1 A
Accuracy
10 A: 3.5% rdg + 15 digits
10 A: 3.5% rdg + 5 digits
Trigger level for Inrush
0.50 A / 5.0 A / 5 A
Trigger level for Hz filter OFF
2.50 A / 2.5 A / 8 A
Trigger level for Hz filter ON
0.50 A / 2.5 A / 8 A
Frequency measurement
Measurement range
5.0 Hz to 1 kHz
Resolution
0.1 Hz (15 Hz to 399.9 Hz); 1 Hz (400 Hz to 1 kHz)
Accuracy – 5.0 Hz to 100 Hz
0.2% + 2 counts
Accuracy – 100.1 Hz to 1 kHz
0.5% + 5 counts
Trigger level
Refer to current and voltage tables
1. Add 2% to error spec for CF > 2
General Specifications
Batteries
Six 1.5 V AA NEDA 15 A or IEC LR6
Battery life (with typical usage, backlight off)
100 hours
Test leads
Rated to 1000 V
Weight
.814 kg (1.8 lb)
Jaw size
58 mm (2.28 in)
Dimensions (L x W x D)
300 x 98 x 52 mm (12 x 3.75 x 2 in)
Safety rating
IEC 61010-2-032, 600 V CAT IV, 1000 V CAT III
Environmental Specifications
Operating temperature
32°F to +122°F (0°C to +50°C)
Storage temperature
-4°F to 140°F (-20°C to +60°C)
Operating humidity
0 to 95% (non-condensing)
Operating altitude
2000 m
Storage altitude
10,000 m
IP rating
42 (indoor use only)
Drop test requirements
1 m
EMI, RFI, EMC
FCC part 15, IEC/EN 61326-1:1997 class B
IEC/EN 61326:1997 3V/m, performance criteria B, EN61325
Temperature coefficients
Current
0.1% of reading per °C outside 22°C to 24°C
Voltage
0.1% of reading per °C outside 22°C to 24°C
Fluke 353 True RMS 2000 A Clamp Meter
Includes:
353 clamp meter
User manual
C43 Soft carrying case
6 AA batteries
3 year warranty
Fluke 353 True RMS 2000 A Clamp Meter
Related Products