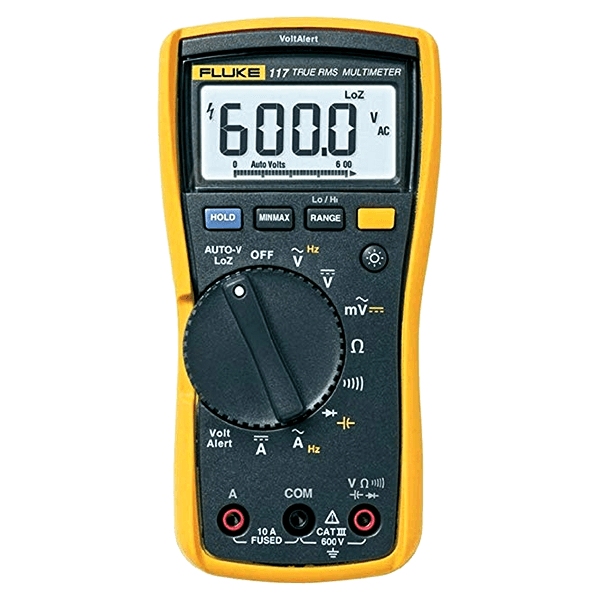 Model: Fluke 117 Digital Multimeter
Fluke 117 Digital Multimeter includes integrated non-admittance voltage detection to assuage profit the behave ended quicker.
Designed by Engineers and intended by Fluke, the Fluke 117 Digital Multimeter could be a compact True-RMS meter for exacting applications between industrial buildings, hospitals, and colleges.
With its integrated non-contact voltage detection, Auto Volts and LoZ take scuffle that helps prevent two-time readings caused by ghost voltage. Fluke is a to your liking substitute for engineers. In fact, users in the region of the world have aforementioned their 117 multimeter is the partner investment inaccuracy.
The Fluke 117 digital multimeter provides Min/Max/Average readings and proceedings frequency and capacitance. Plus, its easy-to-use interface will prevent era and fine-atmosphere you to manoeuvre from job to job a lot of unexpectedly. We offer Fluke 117 Digital Multimeter with the best price in BD from Tools Bangladesh.
Features
Key features: Fluke 117 Digital Multimeter
Accurate, easy-to-use multimeter with integrated VoltAlert™ technology for non-contact voltage detection
Presents a large white LED backlight for working in poorly lit areas
Features True RMS capabilities for accurate measurements on non-linear loads
Features AutoVolt automatic AC/DC voltage selection
Provides low input impedance to help prevent false readings due to ghost voltage
Specifications
Specifications: Fluke 117 Digital Multimeter
Specifications

Maximum voltage between any terminal and earth ground

600 V

Surge protection

6 kV peak per IEC 61010–1 600 VCAT III, Pollution Degree 2

Fuse for A input

11 A, 1000 V FAST Fuse (Fluke PN 803293)

Display

Digital: 6,000 counts, updates 4 per second

Bar graph

33 segments, updates 32 per second

Operating temperature

-10°C to +50°C

Storage temperature

-40°C to +60°C

Battery type

9 volt Alkaline, NEDA 1604A / IEC 6LR61

Battery life

400 hours typical, without backlight

Accuracy Specifications

DC millivolts

Range/resolution

600.0 mV / 0.1 mV

Accuracy

±([% of reading] + [counts]): 0.5% + 2

DC volts

Range/resolution

6.000 V / 0.001 V
60.00 V / 0.01 V
600.00 V / 0.1 V

Accuracy

±([% of reading] + [counts]): 0.5% + 2

Auto volts

Range/resolution

600.0 V / 0.1 V

Accuracy

2.0% + 3 (DC, 45 Hz to 500 Hz)
4.0% + 3 (500 Hz to 1 kHz)

AC millivolts¹ True RMS

Range/resolution

600.0 mV / 0.1 mV

Accuracy

1.0% + 3 (DC, 45 Hz to 500 Hz)
2.0% + 3 (500 Hz to 1 kHz)

AC volts¹ True RMS

Range/resolution

6.000 V / 0.001 V
60.00 V / 0.01 V
600.0 V / 0.1 V

Accuracy

1.0% + 3 (DC, 45 Hz to 500 Hz)
2.0% + 3 (500 Hz to 1 kHz)

Continuity

Range/resolution

600 Ω / 1 Ω

Accuracy

Beeper on < 20 Ω, off > 250 Ω detects opens or shorts of
500 μs or longer.

Ohms

Range/resolution

600.0 Ω / 0.1 Ω
6.000 kΩ / 0.001 kΩ
60.00 kΩ / 0.01 kΩ
600.0 kΩ / 0.1 kΩ
6.000 MΩ / 0.001 MΩ

Accuracy

0.9% + 1

Range/resolution

40.00 MΩ / 0.01 MΩ

Accuracy

5% + 2

Diode test

Range/resolution

2.00 V / 0.001 V

Accuracy

0.9% + 2

Capacitance

Range/resolution

1000 nF / 1 nF
10.00 μF / 0.01 μF
100.0 μF / 0.1 μF
9999 μF / 1 μF
100 μF to 1000 μF

Accuracy

1.9% + 2

Range/resolution

> 1000 μF

Accuracy

5% + 20%

Lo-Z capacitance

Range

1 nF to 500 μF

Accuracy

10% + 2 typical

AC amps True RMS (45 Hz to 500 Hz)

Range/resolution

6.000 A / 0.001 A
10.00 A / 0.01 A

Accuracy

1.5% + 3
20 A continuous overload for 30 seconds max

DC amps

Range/resolution

6.000 A / 0.001 A 10.00 A / 0.01 A

Accuracy

1.0% + 3
20 A continuous overload for 30 seconds max

Hz (V or A input)²

Range/resolution

99.99 Hz / 0.01 Hz
999.99 Hz / 0.1 Hz
9.999 Hz / 0.001 Hz
50.00 Hz / 0.01 Hz

Accuracy

0.1% + 2

1. All AC voltage ranges except Auto-V/LoZ are specified from 1% to 100% of range. Auto-V/LoZ is specified from 0.0 V.
2. Temperature uncertainty (accuracy) does not include the error of the thermocouple probe.
2. Frequency is AC coupled, 5 Hz to 50 kHz for AC voltage. Frequency is DC coupled, 45 Hz to 5 kHz for AC current.
2. Temperature Range/Resolution: -40°F to 752°F / 0.2°F.

Mechanical and General Specifications

Size

167 x 84 x 46 mm (6.57 x 3.31 x 1.82 in)

Weight

550 g

Warranty

3 years
Includes
Includes: Fluke 117 Digital Multimeter
4 mm silicone test lead set
Holster
User manual
Accessories
Accessories: Fluke 117 Digital Multimeter
Cases (3)
Fluke C50 Meter Case
Fluke C90 Soft Case for DMM and Visual IR Thermometers
Fluke CXT170 Extreme Case
Other (2)
Fluke TPAK ToolPak™ Magnetic Meter Hanger
Fluke MeterCleaner™ Wipes
Clips (2)
Fluke AC285 SureGrip™ Alligator Clips
Fluke AC87 Heavy Duty Bus Bar Clip Set
Lights (2)
Fluke LVD1 Volt Light
Fluke L206 Deluxe LED Hat Light
Current clamps (1)
Fluke i400s AC Current Clamp
Probes (1)
Fluke 80PK-9 General Purpose Probe
Visual IR thermometers (1)
Fluke 80TK Thermocouple Module
Test leads (4)
Fluke TL220 SureGrip™ Industrial Test Lead Set
Fluke TL223 SureGrip™ Electrical Test Lead Set
Fluke TL71 Premium Test Lead Set
Fluke TL175 TwistGuard™ Test Leads