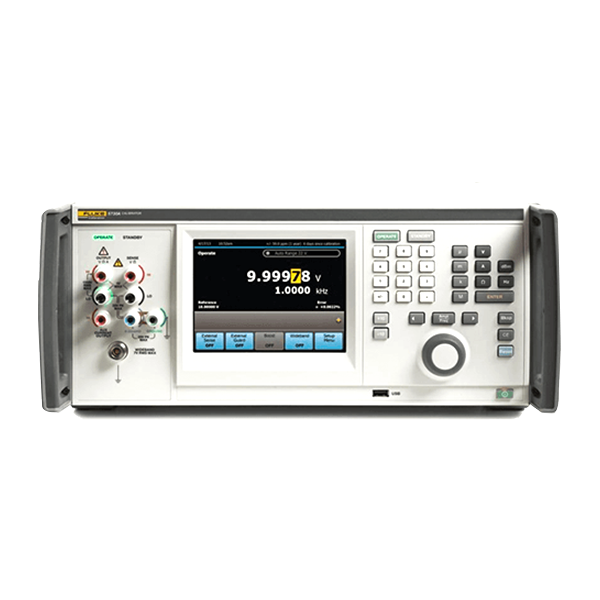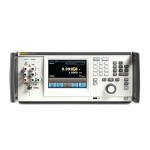 Model: 5730A High-Performance Multifunction Calibrator
The new gold standard in electrical calibration. Since 1988, the Fluke 5700A family has set the standard for multifunction calibrator performance in calibration laboratories around the world. Now the time has come to advance this best-in-class calibrator, taking advantage of twenty-first-century technology and usability.
The Fluke Calibration 5730A High-Performance Multifunction Calibrator is the culmination of years of engineering development, customer research and industrial design, to bring to market the new "gold standard" in electrical multifunction calibration.
Tools Bangladesh has stored some Authorize distributor of electronic instruments. So you can order and get this model to your doorstep.
Features
5730A High-Performance Multifunction Calibrator
Key Features:
Improved performance specifications for ac voltage, ac current and resistance
5 inch VGA capacitive touch screen with the full-color graphical user interface
Artifact Calibration using 10 V, 1 Ω and 10 kΩ external standards; 30 MHz and 50 MHz wideband output options available
Full MET/CAL® compatibility with 5700A and 5720A procedures
Visual Connection Management™ output terminals guide connections
The graphical user interface in nine languages
Compatible with 52120A and 5725A amplifiers
Specifications
Specifications: 5730A High-Performance Multifunction Calibrator
Technical Specifications
Voltage DC

| | |
| --- | --- |
| Range: | 0 to ±1100 V |
| Best 1 Year, 95% Specification: | 3.5 ppm + 2.5 µV |

Voltage AC
Resistance

| | |
| --- | --- |
| Range: | 0 to 100 MΩ, 18 values in x1 and x1.9 |
| Best 1 Year, 95% Specification: | 6.5 ppm |

Current DC

| | |
| --- | --- |
| Range: | 0 to ±2.2A (0 to ±11A with 5725A; 0 to ±100 A with 52120A) |
| Best 1 Year, 95% Specification: | 35 ppm + 7 nA |

Current AC

| | |
| --- | --- |
| Range: | 9 µA to 2.2A, 10 Hz to 10 kHz (9 µA to ±11A with 5725A; 9 µA to ± 120 A with 52120A) |
| Best 1 Year, 95% Specification | 103 ppm + 8 nA |

Wideband ac Voltage option

| | |
| --- | --- |
| Range: | 300 µV to 3.5V |
| | 10 Hz to 50 MHz |
| Best 1 Year, 99% Specification | 0.4% + 500 µV |
General Specifications
Warm uptime
Twice the time since last warmed up, to a maximum of 30 minutes
Settling time
Less than 5 seconds for all functions and ranges except as noted
Standard interfaces
IEEE-488 (GPIB), RS-232, USB 2.0 Device, Ethernet, 5725A, 52120A, phase lock-in (BNC), phase reference out (BNC)
Temperature performance

| | |
| --- | --- |
| Operating: | 0 °C to 50 °C |
| Calibration: | 15 °C to 35 °C |
| Storage: | -40 °C to 75 °C |

Operating altitude
2000 m maximum
Relative humidity

| | |
| --- | --- |
| Operating: | < 80% to 30 °C, < 70% to 40 °C, < 40% to 50 °C |
| Storage: | < 95%, non-condensing. |

Safety
IEC 61010-1: 300 V CAT II, Pollution Degree 2
Analog low isolation
20 V
Electromagnetic environment
IEC 61326-1: Controlled
Line power
47 Hz to 63 Hz; ±10% 100 V, 110 V, 115 V, 120 V, 200 V, 220 V, 230 V, 240 V
Power consumption
300 VA
Dimensions

| | |
| --- | --- |
| Height:: | 17.8 cm (7 in), standard rack increment, plus 1.5 cm (0.6 in) for feet |
| Width:: | 43.2 cm (17 in), standard rack width |
| Depth: | 64.8 cm (25.5 in), overall; 59.4 cm (23.4 in), rack depth |

Weight
Absolute uncertainty definition
5730A uncertainty specifications include stability, temperature coefficient, linearity, load regulation, and the traceability of the external standard used for calibration. You do not need to add anything to determine the total uncertainty of your calibrator for the temperature range indicated
Specification confidence interval
99% and 95%
Includes
5730A High-Performance Multifunction Calibrator
Includes:
| Model Name | Description |
| --- | --- |
| 5730A | Multifunction Calibrator |
| 5730A/03 | Multifunction Calibrator with 30 MHz Wideband AC Voltage Option |
| 5730A/05 | Multifunction Calibrator with 50 MHz Wideband AC Voltage Option |
| 5730A/S | Multifunction Calibrator with No Front Panel USB Port |
| 52120A | Transconductance Amplifier |
| 5725A | Amplifier |
| MET/CAL/TEAM | Software, MET/CAL w/MET/TEAM |
Accessories
Accessories: 5730A High-Performance Multifunction Calibrator
Accessories common to all models:
| Accessory | Description |
| --- | --- |
| 5730A-7002 | Low Thermal EMF Cables with Banana Plugs |
| 5730A-7003 | Low Thermal EMF Cables with Spade Connectors |
| Y5737 | 5790B and 5700A/5720A Rack Mount Kit. Includes 24 in. slides that allow for side ventilation |
| Y5738 | 5730A Rack Ear Kit |
| 57XX/CASE | Transit Case for 57XXA Series |
| Priority Gold Instrument CarePlan | Fluke Calibration Priority Gold Instrument care plans are available for most calibration products. Please contact your local Fluke Calibration sales representative for details or to request a quote |
| Silver CarePlan | Fluke Calibration Silver care plans are available for most calibration products. Please contact your local Fluke Calibration sales representative for details or to request a quote. |