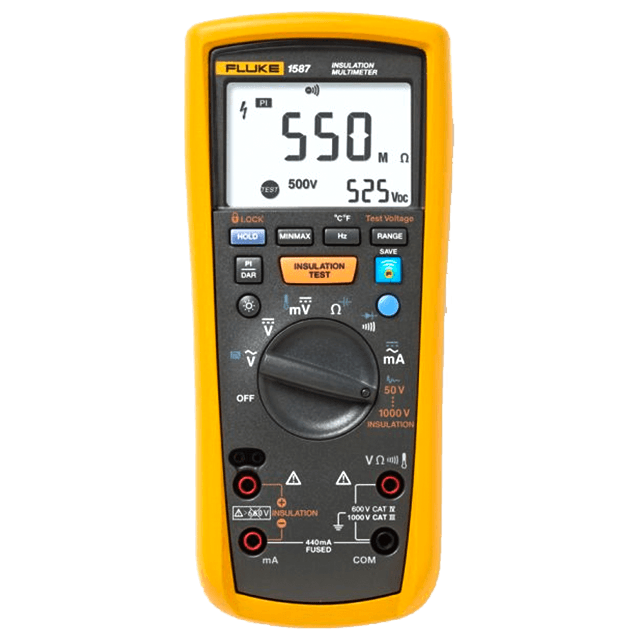 Insulation, Resistance and Battery
Fluke 1587 Insulation Multimeter
Iconic Engineering Limited
Fluke 1587 Insulation Multimeter reliable and rugged that you can trust. Iconic Engineering offer the lowest price & brand new Fluke 1587 in bd...
Fluke 1587 Insulation Multimeter not only provide the best result but also the value of this meter always spot on. Fluke 1587 has advanced multi-functional digital multimeter with built-in insulation testing functions make this the ideal all-around tool for troubleshooting, commissioning, and maintenance.
The Fluke 1587 Insulation Multimeter combines a digital insulation tester with a full-featured, true-RMS digital multimeter in a single compact, handheld unit, which provides maximum versatility for both troubleshooting and preventative maintenance. Like other tools that you have come to expect from Fluke, Fluke 1587 is rugged, reliable, and easy to use.
Whether you work on motors, generators, cables, or switch-gear, the Fluke 1587 Insulation Multimeter is ideally suited to help you with your tasks.
Order this model through Tools Bangladesh we can deliver anywhere in Bangladesh and delivery cost-free.
Key features: Fluke 1587 Insulation Multimeter
Safety first. Keep yourself out of harm's way by monitoring your test measurements remotely.
Prove your job is done right by quickly seeing and sharing measurement results wirelessly with your smartphone.
Quickly find problems by saving and comparing measurements overtime on a wireless device.
Specifications: Fluke 1587 Insulation Multimeter
Voltage DC
Maximum Voltage
1000 V
Accuracy
±(0.2%+2)
Maximum Resolution
0.001V
Voltage AC
Maximum Voltage
1000 V
Accuracy
±(2%+3)
Maximum Resolution
0.1 mV
Current DC
Maximum Amps
400mA
Amps Accuracy
±(1.0%+2)
Maximum Resolution
0.01 mA
Current AC
Maximum Amps
400mA
Amps Accuracy
±(2.0%+2) 1kHz bandwidth
Maximum Resolution
0.01 mA
Resistance
Maximum Resistance
50 MΩ
Accuracy
±(1.2%+2)
Maximum Resolution
0.1Ω
Insulation Test
Minimum Test Current @ 1kΩ/V
1mA
Test Voltages
500, 1000 V
Maximum Resistance per Test Voltage
100V: 600 MΩ
Maximum Resolution per Test Voltage
50V: 0.01 MΩ 100V: 0.01 MΩ 250V: 0.1 MΩ 500V: 0.1 MΩ 100V: 0.1 MΩ
Accuracy per Test Voltage
50V: ±(3 % + 5) 100V: ±(3 % + 5) 250V: ±(1.5 % + 5) 500V: ±(2.0 % + 5) 100V: ±(2.0 % + 5)
Environmental Specifications
Operating temperature
–20 °C to +55 °C
Storage temperature
-40°C to +60°C
Humidity (Without Condensation)
0% - 95% (10 °C – 30 °C) 0% - 75% (30 °C – 40 °C) 0% - 40% (40 °C – 55 °C)
Operating Altitude
2000 m
Safety Specifications
Overvoltage category
Complies with ANSI/ISA 82.02.01 (61010-1) 2004, CAN/CSA-C22.2 NO. 61010-1-04, and IEC/EN 61010-1 2nd Edition for measurement CAT III 1000 V and CAT IV 600 V
Agency Approvals
2000 m CAT III 1000 V, CAT IV 600 V; 3000 m CAT II 1000 V, CAT III 600 V
Mechanical & General Specifications
Size
203 x 100 x 50 mm (with holster)
Weight
624 g
Warranty
3 years
Battery life Alkaline
Meter use 1000 hours
Insulation test use
Meter can perform at least 1000 insulation tests with fresh alkaline batteries at room temperature. These are standard tests of 1000 V into 1 MΩ with a duty cycle of 5 seconds on and 25 seconds off.
IP Rating
IP40
Fluke 1587 Insulation Multimeter
Includes:
Fluke 1587 Insulation Multimeter
Remote probe
Test leads
Alligator clips
Hard case
User documentation
Accessories: Fluke 1587 FC Insulation Multimeter
Cases (1)
Fluke C25 Large Soft Case for DMMs
Other (1)
Fluke TPAK ToolPak™ Magnetic Meter Hanger
Current clamps (1)
Fluke i400 AC Current Clamp
Related Products