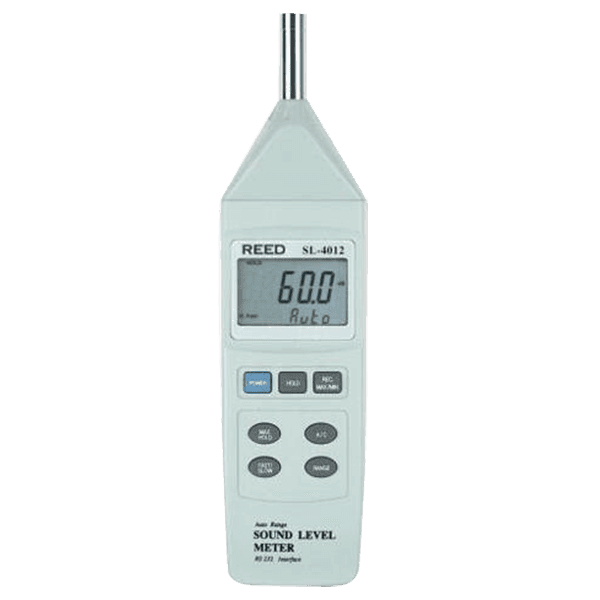 Luron SL 4012 sound level/noise level meter has 30 - 130 dB auto range and manual range, frequency, and time weighting meet IEC 61672 class 2, A and C frequency weighting, fast/slow time weighting, data hold, peak hold, AC output, and RS-232, dimension 268 x 68 x 29 mm.
Features
Features: Lutron SL 4012 Sound Level Meter
Large LCD display, easy to read. Frequency weighting meet IEC 61672 class 2.
Auto range & manual range. A & C frequency weighting.Fast & Slow time weighting.
AC output for system expansion. RS232 computer interface. External calibration VR. Hold & Memory record.High accuracy condenser microphone Peak Hold. Over and under load indicator. LCD display.Durable, strong lightweight ABS-plastic housing case.
Specifications
Specifications: Lutron SL 4012 Sound Level Meter
Display
14mm (0.55″) LCD with Backlight
Parameter Measurement
LP, Lmax, Leq, LN.
Frequency range
31.5Hz~8kHz
Measurement range
LP :30~130dB (A)
35~130dB (C)
35~130 dB (F)Leq:30-130dBLN: 0~100%
Resolution
0.1 dB
Accuracy
±1dB
Memory
Maximum value (30groups)
Time Weighting
(a)Fast (125ms) (b) Slow(15 second)
Low Battery
Indicated
Alarm Output
LED & Optional Relay Contact(NC)
Alarm Value set
30~130dB
PC Interface
RS232C
External DC Power supply
6V DC, 100mA
Dimension
236 x 63 x 26mm (9.3 x 2.5 x 1 inch)
Weight
170g (Including Batteries)
Accessories with Instrument
1. Main Unit—————1pc
2. Carrying Case…………….1pc.
3. Operation Manual……….1pc.
Optional Accessories
1. ND9 sound level meter calibrator
2. Cable and software for RS-232
3. External relay4. AC Adapter