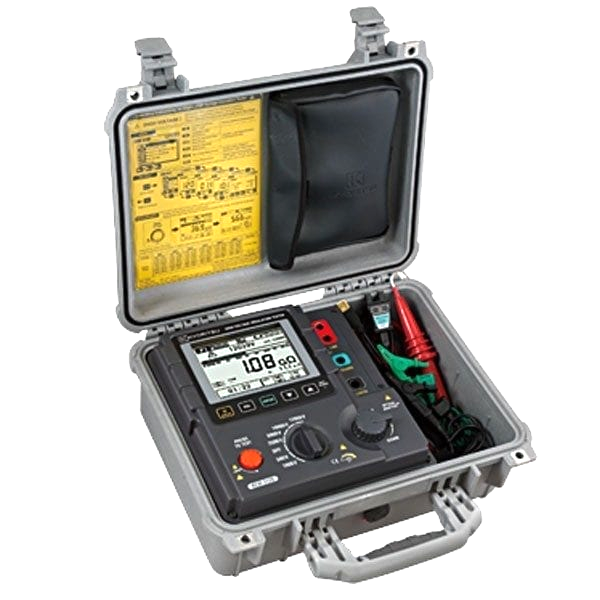 The Kyoritsu 3128 is a digital CAT IV High Voltage Insulation Tester subsequent to the capabilities of psychiatry insulation resistance taking place to 35T, once test voltages going on to 12kV. The 3128 model is meant for arena use when an IP64 rating and features a large LCD display taking into consideration backlight.
The Kyoritsu 3128 is a microprocessor-controlled high voltage insulation resistance tester, following various logical functions. Such functions meet the expense of the take absorb to test the polarization index (PI), the dielectric absorption ratio (DAR) and the dielectric discharge (DD). Step voltage (SV) measurements can be applied, where successive voltage increments are implemented, to test the degradation of insulation. Insulation resistance can be measured occurring to 35T when test voltages going on to 12kV using this instrument.
Features
Key features: Kyoritsu 3128 Digital 12 kV Insulation Tester
• Microprocessor controlled high voltage insulation resistance tester with Diagnostic functions.
• Suitable for analyzing the insulation characteristics of cables, transformers, motors, generators, high-pressure switches, insulators, wiring installations, etc.
• 6 ranges: 500V, 1000V, 2500V, 5000V, 10000V, 12000V
Fine adjustment of voltage setting at each range is also possible
• Graphic representation of the insulation resistance and leakage current versus time on large display with bar graph and backlight.
• Can be operated from built-in rechargeable battery or from AC line.
• Automatic discharge after test with monitoring of the discharge voltage.
• Internal memory can store about 43,000 data (max).
• Robust design for field use with IP64 rating (with lid closed).
Specifications
Specifications: Kyoritsu 3128 Digital 12 kV Insulation Tester
Insulation resistance (*): Accuracy is not guaranteed with setting of 250V or less
Rated voltage
500V
1000V
2500V
5000V
10000V
12000V
Max measurement value
500GΩ
1TΩ
2.5TΩ
5TΩ
35TΩ
Accuracy
400k~50GΩ ±5%rdg±3dgt
(*)
800k~100GΩ 5%rdg±3dgt
2M~250GΩ ±5%rdg±3dgt
4M~500GΩ ±5%rdg±3dgt
8M~1TΩ ±5%rdg±3dgt
50G~500GΩ
±20%rdg
(*)
100G~1TΩ
±20%rdg
250G~2.5TΩ
±20%rdg
500G~5TΩ
±20%rdg
1T~10TΩ
±20%rdg
10T - 35TΩ
Values are displayed, but accuracy isn't guaranteed
Short circuit current
Max 5.0mA
Load resistor to output rated voltage
0.5MΩ or more
1MΩ or more
2.5MΩ or more
5MΩ or more
20MΩ or more
24MΩ or more
Output voltage
Rated voltage
500V
1000V
2500V
5000V
10000V
12000V
Monitor accuracy
±10%±20V
±10%±20V
±10%±20V
±10%±20V
±10%±20V
±10%±20V
Output accuracy
0 - +20%
0 - +10%
0 - +10%
0 - +10%
-5 - +5%
-5 - +5%
Selectable range
50 - 600V
(in steps of 5V)
610 - 1200V (in steps of 10V)
1225 - 3000V

(in steps of 25V)

3050 - 6000V

(in steps of 50V)

6100 -
10000V

(in steps of 100V)

10100 - 12000V

(in steps of 100V)
Voltage measurement
| | |
| --- | --- |
| Measuring range | DCV:±30 ~ ±600V、ACV:30 ~ 600V (50/60Hz) |
| Accuracy | ±2%rdg±3dgt |
Current measurement
| | |
| --- | --- |
| Measuring range | 5.00nA - 2.40mA (Depending on the insulation resistance) |
Capacitance measurement
Measuring range
5.0nF ~ 50.0μF
(500V/1000V/2500V/5000V)
5.0nF - 1.0µF (display range: 5.0nF - 50.0µF) (10000V/12000V)
Accuracy
±5%rdg±5dgt
General
Applicable standards
IEC 61010-1 CAT IV 600V Pollution degree 2,
IEC 61010-031, IEC 61326, IEC 60529 (IP64): with the lid closed.
Operating temperature & humidity range
-10ºC - Relative humidity 85% or less
50ºC /(when operating with an external power supply, no condensation)
0ºC - 40ºC /Relative humidity 85% or less
(when operating with battery, no condensation)
Storage temperature & humidity range
-20ºC - 60ºC / Relative humidity 75% or less (no condensation)
Power source
Rechargeable Lead storage battery (12V)*
Charging time: approx. 8 hours / AC Power supply (100V - 240V, 50/60Hz)
* Continuous measuring time:
approx. 4 hours
(a load of 100MΩ at the Insulation resistance 12000V Range.)
approx. 2 hours
(Max current consumption in range while rated currents are maintained.)
Dimensions
330 (L) × 410 (W) × 180 (D) mm *Instrument and Hard case
Weight
9kg approx. (including battery) *Instrument and Hard case
Includes
Includes: Kyoritsu 3128 Digital 12 kV Insulation Tester
Kyoritsu 3128 Digital 12 kV Insulation Tester
Accessories
Accessories: Kyoritsu 3128 Digital 12 kV Insulation Tester
Included Accessories
7170 (Main cord), 7224A (Earth cord), 7225A (Guard cord), 7226A (Line probe),
7227A (Line probe with alligator clip), 8029 (Extension prod),
8212-USB-W (USB adaptor with KEW Windows (Software)),
Instruction manual
Optional Accessories
7254 (Longer Line probe with alligator clip)