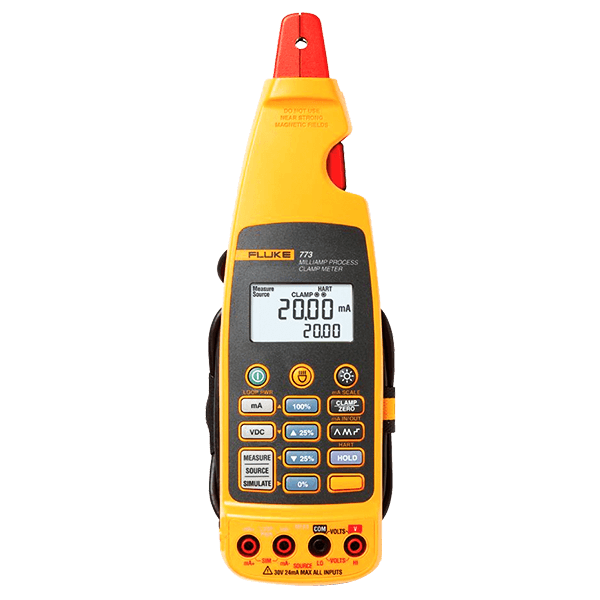 Model: Fluke 773 Milliamp Process Clamp Meter
Fluke 773 the brand new loop calibrator that measures 4 to 20 mA signals without breaking the loop. Fluke 773 Milliamp Process Clamp Meter is more than is accurate and versatile.
The Fluke 773 is ideal for troubleshooting transmitters, valves, and programmable logic controllers (PLCs) found in process plants. It measures low-level dc current and correlates process indication with real physical value. And it measures up to 99.0 mA non-contact, including 10 to 50 mA signals in older control systems.
Iconic Engineering the reliable Test & Measurement tools supplier in Bangladesh of Fluke product. We ensure you the right products at the right time. The amazing things that we always provide Free Delivery anywhere in Bangladesh through the Tools Bangladesh.
Features
Key features: Fluke 773 Milliamp Process Clamp Meter
Loop calibrator that measures 4 to 20 mA signals without breaking the loop
Features best in class 0.2% accuracy
Sources 4 to 20 mA signals for testing control system I/O or I/Ps
Delivers 0.01 mA resolution and sensitivity
Measures DC voltage to verify 24V power supplies or voltage I/O signals
Specifications
Specifications: Fluke 773 Milliamp Process Clamp Meter
Specifications
Diameter of measurable conductor
0.177" or 4.5 mm max
Operating temperature
-10 to 50ºC
Storage temperature
-25 to 60ºC
Operating humidity
< 90% @ <30ºC, < 75% @ 30 to 55ºC
Operating altitude
0 to 2000 m
IP rating
IP 40
Size
44 x 70 x 246 mm (2 7/8 x 5 ¾ x 11 5/8 in)
Weight
410 g, (14.4 oz)
Vibration
Random 2 g, 5 to 500 Hz
Shock
1 meter drop test (except the jaw)
EMI/RFI
Meets EN61326-1
For current measurement w/ JAW, add 1mA to specification for EMC field strengths of 1V/m up to 3V/m.
Temperature coefficient
0.01% ºC
(< 18ºC or > 28ºC)
Power, battery life
(4) AA 1.5 V Alkaline, IEC LR6, 12 hours in mA source into 500 ohms
Warranty
Three years for electronics
One year for cable and clamp assembly
Functional Specifications
mA measurement
(measured by clamp)
Resolution / range
0 to 20.99 mA
Accuracy
0.2% + 5 counts
Resolution / range
21.0mA to 100.0 mA
Accuracy
1% + 5 counts
mA measurement (measured in series with test jacks)
Resolution / range
0 to 24.00 mA
Accuracy
0.2% + 2 counts
mA source (maximum mA drive: 24 mA into 1,000 ohms)
Resolution / range
0 to 24.00 mA
Accuracy
0.2% + 2 counts
mA simulate (maximum voltage 50 V dc)
Resolution / range
0 to 24.00 mA
Accuracy
0.2% + 2 counts
Voltage source (2 mA maximum drive current)
Resolution / range
0 to 10.00 V DC
Accuracy
0.2% + 2 counts
Voltage measure
Resolution / range
0 to 30.00 V DC
Accuracy
0.2% + 2 counts
Includes
Includes: Fluke 773 Milliamp Process Clamp Meter
Four AA alkaline batteries (installed)
Soft carrying case
TL75 test leads
AC 72 detachable clip
TL 940 mini hook test leads
Instruction sheet
Hanging tool with hook and loop strap
Fluke 773 Milliamp Process Clamp Meter
Accessories
Accessories: Fluke 773 Milliamp Process Clamp Meter