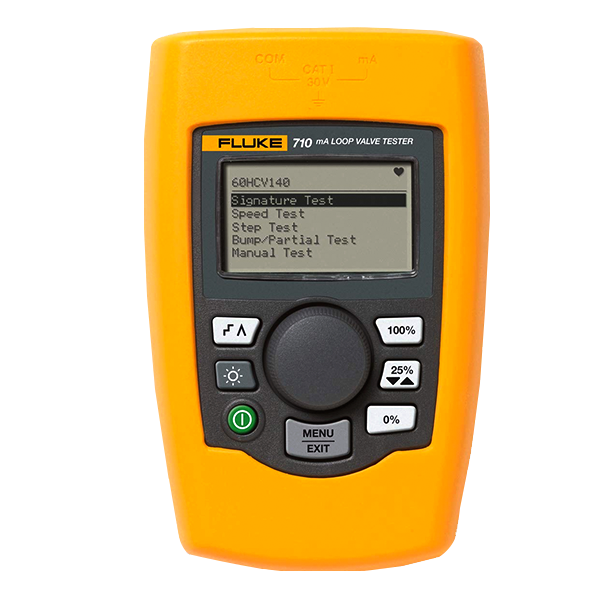 Calibration
Fluke 710 mA Loop Valve Tester
Iconic Engineering Limited
We offer the lowest price 710 mA Loop Valve Tester for you. Now the calibration product more than affordable for you. Fluke 710 mA Loop Valve Tester...
Model: Fluke 710 mA Loop Valve Tester
Fluke 710 valve Testing Loop Calibrator is designed to enable users to perform quick, easy tests on HART smart control valves. Featuring built-in test procedures and an intuitive user interface, the Fluke 710 allows users to quickly and easily perform valve tests, while the valve test quick-check results provide at-a-glance diagnostics help you make maintenance decisions faster than ever. The valve health quick-check results let you know whether your valve is in good, marginal or in the bad operating condition so you can quickly decide whether additional maintenance is necessary.
Valve testing and HART communication in a precision loop calibrator
With Fluke 710 Valve Testing Loop Calibrator's built-in HART communication function, users can source a 4-20 mA signal to cause the smart control valve to move, while simultaneously interpreting the valve's HART feedback signal to determine whether the valve is moving to the expected position. In addition to positional information, the measured pressure delivered from the valve's internal I/P (which moves the valve) can be determined through the HART communication protocol.
Fluke 710 has built-in test procedures that automatically increase and change the mA signal while monitoring the HART position and pressure feedback from the control valve, giving you a better overall picture of valve health at the simple push of a button. Keep it, save it and share it dear Fluke lovers Engineer.
Buy now at Tools Bangladesh and get access to free delivery anywhere in Bangladesh.
Key features: 710 mA Loop Valve Tester
Key valve testing functions include pre-configured valve signature test, speed test, step test, manual test, and bump/partial stroke test
Key mA loop calibrator functions include mA source, mA simulate, mA read, mA read/loop power, and volts read
ValveTrack™ Software enables upload to a PC for further in-depth analysis of valve measurements that are logged and recorded to memory
Specifications: 710 mA Loop Valve Tester
Detailed Specifications
Functions
mA source, mA simulate, mA read, mA read/loop power, and volts read.
Ranges
mA (0 to 24 mA) and Volts (0 to 30 V DC)
Resolution
1 µA on mA ranges and 1 mV on voltage range
Accuracy
0.01% ± 2 counts, all ranges (@ 23 °C ± 5 °C [73.4 °F ± 41 °F])
Operating temperature range
-10°C to 55°C (14°F to 131°F)
Humidity range
10 to 95% non-condensing
Stability
20 ppm of F.S. /°C from -10°C to 18°C and 28°C to 55°C
Display
128 x 64 pixels, LCD Graphic w/backlight, .34 high digits
Power
6 AAA alkaline
Battery life
40 hours continuous use (measure mode using)
Loop compliance voltage
24 V DC @ 20mA
Over-voltage protection
240 V AC
Overload current protection
28 mA DC
EMC
EN61326 Annex A (Portable Instruments)
Dimensions (L x W x D)
15 x 9 x 3 cm (6 x 3.6 x 1.3 in)
Weight
0.3 kg (9.5 oz)
Included accessories
Traceable calibration certificate with data, batteries, test leads, USB upload cable and safety
Warranty
Three year
Includes: Fluke 710 mA Loop Valve Tester
Stackable test lead set
Extended tooth alligator clip set
TP220 test probes
AC280 SureGrip™ hook clips
Lemo to USB upload/download cable
ValveTrack™ software (free download)
Softcase
Six AAA batteries (installed)
709/709H/710 Product manual CD-ROM
709/709H/710 Quick reference guide
709/709H/710 Safety information
Accessories: Fluke 710 mA Loop Valve Tester
Related Products