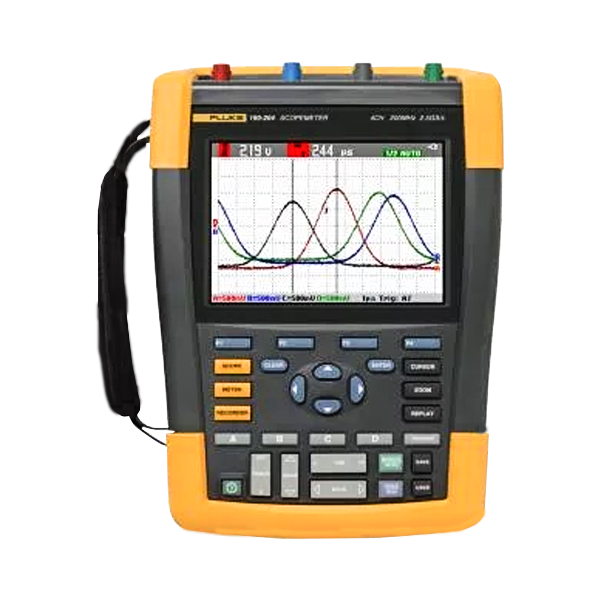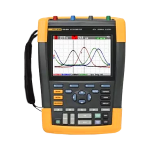 Model: Fluke 190-204 ScopeMeter®Test Tool
Fluke 190-204 ScopeMeter®Test Tool is rugged reliable and very productive. As the first four-channel portable scope safety rated CAT III 1000 V / CAT IV 600 V, the Fluke ScopeMeter® 190-204 combines an unprecedented level of performance, ruggedness, and portability with 200 MHz bandwidth and real-time sampling rates up to 2.5 GS/s and 200 ps resolution to capture noise and other disturbances.
This model features deep memory up to 10,000 samples per channel, so you can examine very small parts of the waveform in detail, and it is IP-51 rated to withstand dust, drips, humidity, and wide temperature variations. Fluke ScopeMeter® test tools are hand-held battery operated, designed to meet the demands of field service professionals.
Do you need a productive product for your workplace? We suggest you as we Iconic Engineering Company this model from Tools Bangladesh. Get it free delivery all over In Bangladesh.
Features
Key Features: Fluke 190-204 ScopeMeter®Test Tool
Two electrically isolated inputs
CAT III 1000 V / CAT IV 600 V safety rated
200 MHz bandwidth model
5 GS/s
Deep memory: 10,000 samples per channel waveform capture so you can zoom in on the details
Dedicated 5000 Count digital multimeter
Connect-and-View continuous auto-trigger, single shot, pulse width, and video triggering
ScopeRecord roll mode, capture waveform sample data for up to 48 hours
TrendPlot, trend measurement readings for up to 22 days
Advanced automatic measurements, power (Vpwm, VA, W, PF) and time (mAs, V/s, w/s)
IP-51 rated for dust and drip proof to withstand harsh environments
Isolated USB ports for memory devices and PC connectivity
Li-Ion battery for extended operating timespan
Up to 7 hour (BP291 included standard)
Charge spare battery using optional external battery charger EBC290
Easy-access battery door to make it easy to swap batteries
A handy slot to tether and lock down the oscilloscope while unattended using a standard Kensington® lock
Specifications
Specifications: Fluke 190-204 ScopeMeter® Test Tool
Specifications
Bandwidth
200 MHz
Number of channels
200 MHz: 4 channels
Real-time sample rate
2.5 GS/s
Inputs
4 scope plus DMM input
Independently floating isolated inputs
Up to 1000 V CAT III/600 V CAT IV between inputs, references and ground
Timebase range
2 ns - 2 min/div
Input sensitivity
2 mV-100 V/div
Trigger types
Connect-and-View™, Free Run, Single Shot, Edge, Delay, Dual Slope, Video, Video Line, Selectable pulse width, N-Cycle
Trigger source
Any scope input channel
Glitch capture
8 ns
Scope measurements
Cursor: 7
Automatic: 30
Maximum record length
ScopeRecord mode: 30,000 pts
Scope mode: 10,000 pts per input
Persistence
Digital persistence giving analog oscilloscope-like waveform decay
Waveform compare
Waveform reference with automatic Pass/Fail testing
Environmental Specifications
Operating temperature
0°C to 40°C Including Batteries
0°C to 50°C Excluding Batteries
Storage temperature
-20°C to +60°C
Operating altitude
Up to 2,000 m (6666 ft) for CAT IV 600 V, CAT III 1000 V
Up to 3,000 m (10,000 ft) for CAT III 600 V, CAT II 1000 V
Safety Specifications
Electrical safety
1,000V CAT III/600V CAT IV (EN61010-1)
Mechanical and General Specifications
Size
270 x 190 x 70 mm
Weight
2.2 kg
Warranty
3-years on main instrument, 1-year on accessories
Li-Ion battery
BP291 4800 mAh battery up to 7 hours included standard
Included Accessories
VPS410 Voltage Probe Sets (one red, one blue, one grey, one green)
BC190 Battery Charger/mains Adapter
BP291 4800 mAh high capacity Li-ion Battery
Handstrap (affixed to instrument)
Hangstrap
Multi-Language User Manuals on CD-Rom
FlukeView ScopeMeter® demo package (restricted functionality)
USB Interface Cable
Warranty
Three years on main instrument, one year on accessories
Includes
Includes: Fluke 190-204Fluke 190-204 ScopeMeter® Test Tool
Color ScopeMeter® 200 MHz
4 channels
DMM/Ext.input
Accessories
Accessories: Fluke 190-204 ScopeMeter® Test Tool
Kits (1)
Fluke MA190 Accessory Kit for Medical and Video Applications
Adapters (1)
Fluke BC190 Line Voltage Adapter / Battery Charger
Batteries (2)
Fluke BP290 2400 mAh High Capacity Li-Ion Battery for Fluke 190-Series-II
Fluke BP291 4800 mAh High Capacity Li-Ion Battery for Fluke 190-Series-II
Connectors (1)
Fluke EBC290 External Battery Charger for BP290 and BP291
Cases (2)
Fluke C195 Case
Fluke C290 Hard Shell Protective Carrying Case for Fluke 190-series II
Clips (1)
Fluke HC200 Hook Clip set 2 red, 2 gray
Other (1)
Fluke HH290 Hanging Hook for ScopeMeter 190-Series II
Fluke calibration software (1)
Fluke SW90W FlukeView ScopeMeter Software
Probes (15)
Fluke AS400 Probe Accessory Extension Set 1
Fluke RS400 Probe Accessory Replacement Set
Fluke VPS410-B ScopeMeter Voltage Probe-set, blue, 10:1, 300 MHz, 1000V CAT III, 600V CAT IV
Fluke VPS410-G ScopeMeter Voltage Probe-set, grey, 10:1, 300 MHz, 1000V CAT III, 600V CAT IV
Fluke VPS410-II-B ScopeMeter® Voltage Probe Set
Fluke VPS410-II-G ScopeMeter® Voltage Probe Set
Fluke VPS410-II-R ScopeMeter® Voltage Probe Set
Fluke VPS410-R ScopeMeter Voltage Probe-set, red, 10:1, 300 MHz, 1000V CAT III, 600V CAT IV
Fluke VPS420-B ScopeMeter® Voltage Probe Set
Fluke VPS420-G ScopeMeter® Voltage Probe Set
Fluke VPS420-R ScopeMeter® Voltage Probe Set
Fluke VPS510-B ScopeMeter® Compact Probe
Fluke VPS510-G ScopeMeter® Compact Probe
Fluke VPS510-R ScopeMeter® Compact Probe
Fluke VPS510-V ScopeMeter® Compact Probe
Test leads (3)
Fluke TL175 TwistGuard™ Test Leads
VPS220-G - Voltage Probe Set, 100:1, one grey
VPS220-R – Voltage Probe Set, 100:1, one red
Cables (1)
Fluke TRM50 Coaxial Feed-through BNC Male to BNC Female Cable Terminator