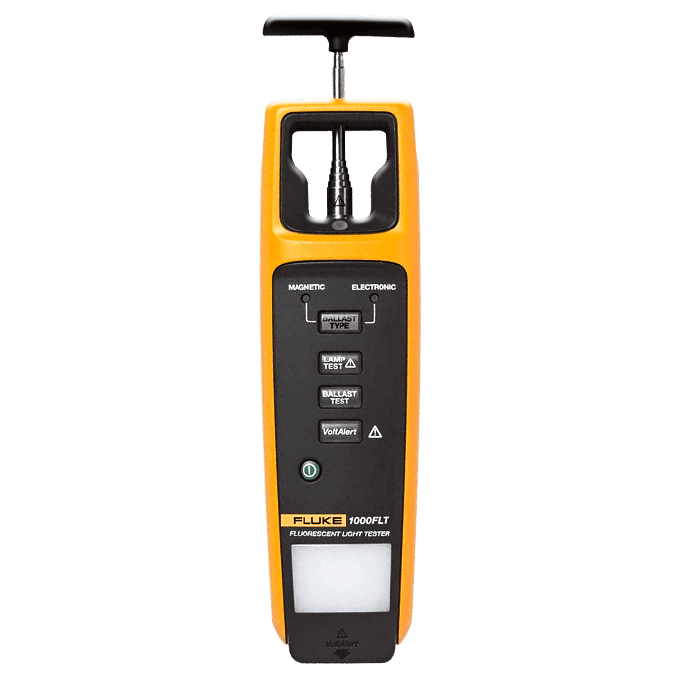 Model: Fluke 1000FLT Fluorescent Light Tester
The Fluke 1000FLT takes the trial and error out of fluorescent light testing.
The Fluke 1000FLT performs all five essential tests with one compact tool. If your job requires keeping large numbers of fluorescent lights shining, the Fluke 1000FLT is an indispensable tool that saves time and money.
Loss more money for your instrument but less productivity? You can come to Tools Bangladesh and use the original Fluke product. Buy with the best price and makes your good performance.
Features
Key features: Fluke 1000FLT Fluorescent Light Tester
Performs all five essential lighting tests in under 30 seconds to pinpoint problems and verify operation
Survives on-the-job handling—Drop-tested to survive a drop from a six-foot (two-meter) ladder
Delivers quick, easy results with bright indicator light plus audible alert
Comes with a three-year warranty
Specifications
Specifications: Fluke 1000FLT Fluorescent Light Tester
General Specifications
Lamp test max output
3000 V peak
Ballast test
20 kHz
Ballast type descriminator
≤3m (10 feet) distance
Pin continuity test
< 1 kΩ
NCV (VoltAlert™)
85 to 400 V AC
45 a 67 Hz
≤10 cm (4 in) distance
Environmental Specifications
Temperature
Operating: -10 °C to +50 °C (14 °F to +122 °F)
Storage: -40 °C to +60 °C (-40 °F to +140 °F)
Relative humidity
85% maximum
Safety Specifications
Safety rating
IEC 61010-1, pollution degree 2
Mechanical and General Specifications
Size
21.5 cm x 3.0 cm x 6.5 cm (8.5 x 1.2 x 2.6 in)
Weight
0.37 kg (0.80 lb.)
Battery type
4 x AA alkaline IEC LR6
Battery life
40 hours
Auto power off
20 minutes after non-use
Low battery indicator
Power button light blinks when power is low (typically 85% of capacity depleted)
Operating altitude
<2000 m
Electromagnetic environment
EN 61326-1: Portable
Electromagnetic compatibility
CE IEC: CISPR 11: Grupo 2, clase A
Group 2 contains all ISM RF equipment in which radio-frequency energy in the frequency range 9 kHz to 400 GHz is intentionally generated and used or only used, in the form of electromagnetic radiation, inductive and/or capacitive coupling, for the treatment of material or inspection/analysis purposes
Class A equipment is suitable for use in non-domestic locations and/or directly connected to a low-voltage power supply network
EE.UU. FCC part 15, subpart B: exempt as test equipment per clause 15.103
Korea only Clas A Equipment (Industrial Broadcasting & Communication Equipment)1
1 This product meets requirements for industrial (Class A) electromagnetic wave equipment and the seller or user should take notice of it. This equipment is intended for use in business environments and not to be used in homes.
Resistance to impact
2 meter drop
Warranty
3 years
Includes
Includes: Fluke 1000FLT Fluorescent Light Tester
Quick reference guide
4 AA alkaline batteries
H1000 holster
Warranty card (3-year warranty)