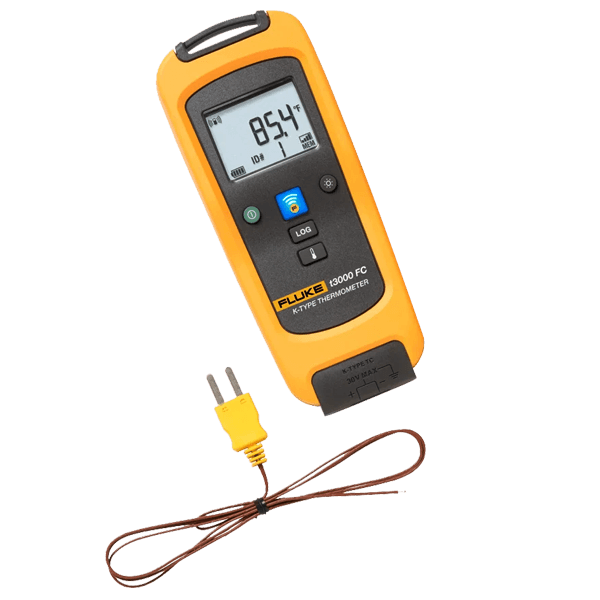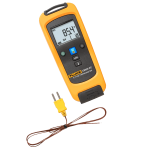 Model: Fluke t3000 FC Wireless Temperature Module
The Fluke t3000 FC Wireless K-Type Temperature Module wirelessly relays measurements to other Fluke Connect® enabled master units. You can connect with the mobile app and have used others feature to easily use. This is a rugged and reliable product that you can buy it without tension.
All the facts, right in the auditorium. The Fluke t3000 FC Wireless K-Type Temperature Module is one fan of an intimate of wireless test tools that tolerate you part test data using the Fluke Connect app taking into account ShareLive video call.
Fluke Connect Wireless Test Tools put tools, not your body, near liven up electrical panels. It's easy. Connect the t3000 FC wireless temperature module, or any of the added Fluke Connect unfriendly modules, and door the results on the subject of the Fluke Connect Wireless Multimeter or a portable PC from a safe set against.
Better yet, the Fluke Connect test tools can send measurement data to your smartphone, appropriately you can save and pension measurements from the pitch bearing in mind your team anytime, from anywhere.
Don't profit bogged the length of even though isolating intermittent electrical faults
Timing is anything past maddening to locate an intermittent difficulty and the behind share is, it doesn't always appear in happening gone you have your meter associated. We've solved that excruciating subsequent to Fluke Connect depart your cold modules related to log measurements and stroll away to home adding issues. You can subsequently download the data for supplementary analysis.
Tools Bangladesh offers the best price in Bangladesh and also we deliver anywhere in Bangladesh without any delivery cost. So don't miss out on it.
Features
Key features: Fluke t3000 FC Wireless Temperature Module
The Fluke t3000 FC Wireless K-Type Temperature Module wirelessly relays measurements to other Fluke Connect® enabled master units, listed below:
Fluke 3000 FC DMM
Fluke Ti200/300/400 Infrared Camera
PC via optional pc3000 FC Adapter
Fluke Connect Mobile app
With the Fluke t3000 FC Wireless K-Type Temperature Module you can:
Use as a standalone meter or as part of the system
Logging function for recording and saving up to 65,000 readings
Specifications
Specifications: Fluke t3000 FC Wireless Temperature Module
General Specifications
Range K-Type
-200°C to 1372°C
Resolution
0.1°C
Accuracy
±[0.5% + 0.5°C] counts
Input terminals
K-type mini
LCD w/backlight
3 ½ digits
Log rate/interval
1 sec minimum/adjustable by PC
Battery type
2 AA, NEDA 15 A, IEC LR6
Battery life
400 hours
Memory
Record up to 65,000 readings
RF communications
2.4 GHZ ISM Band
RF communication range
Open air, unobstructed
Up to 20 m
Obstructed, sheetrock wall
Up to 6.5 m
Obstructed, concrete wall or steel electrical enclosure
Up to 3.5 m
Operating temperature
-10°C to +50°C
Storage temperature
-40°C to +60°C
Temperature coefficient
0.01% of reading +0.03°C per °C
Temperature scale
ITS-90
Operating humidity
90% at 35°C, 75% at 40°C, 45% at 50°C
Altitude
Operating
2,000 m
Storage
12,000 m
EMC
EN 61326-1:2006
Safety compliance
IEC 61010-1, CAT I, 3rd edition Pollution Degree 2
Certifications
CSA, CE, FCC: T68-FBLE IC: 6627A-FBLE
Ingress Protection (IP) rating
IP42
Pollution Degree
2
Size (H x W x D)
16.5 x 6.35 x 1.4 cm (6.5 x 2.5 x 1.4 in)
Weight
.22 kg (8 oz)
Warranty
Three years
Not compatible with Fluke CNX test tools
Includes
Includes: Fluke t3000 FC Wireless Temperature Module
Fluke t3000 Thermocouple Thermometer
Magnetic hanging strap
Other K-Type temperature probes also available
Accessories
Accessories: Fluke t3000 FC Wireless Temperature Module
Cases (1)
Fluke C3004 Soft Case for FC Industrial System
Wireless (1)
Fluke pc3000 FC Wireless PC Adapter