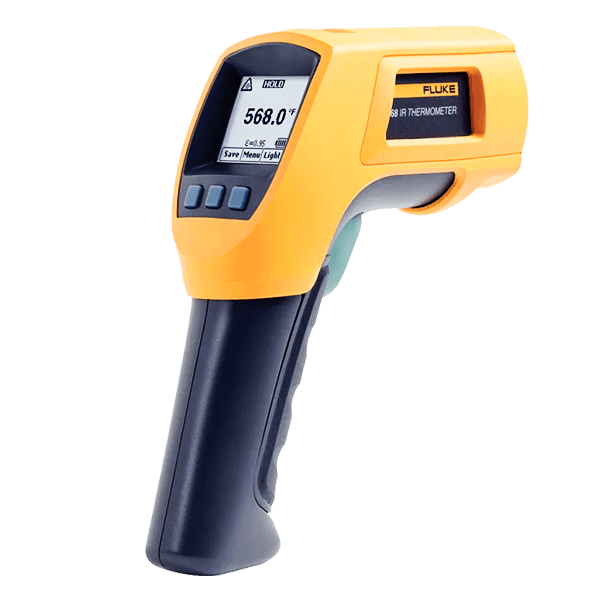 Temperature
Fluke 568 Contact & Infrared Temp Gun
Iconic Engineering Limited
Fluke 568 Contact and Infrared Temperature Thermometer. Get Free Shipping when you order online at Tools Bangladesh. Rugged reliable and 100% trusted...
Model: Fluke 568 Contact & Infrared Temp Gun
Fluke 568 Infrared Thermometer is a combination of contact and non-contact thermometer in one. It offers a wider temperature range than most other infrared thermometers while offering users more features controlled through an intuitive graphical display and menu.
The simple, three-button on-screen menu interface (in 7 languages) is quick to use and makes even complex measurements easy. It takes just a few pushes of a button to adjust emissivity, record data, or turn on and off alarms.
The 50:1 distance-to-spot ratio allows you to measure smaller objects from further away. And you can count on the rugged, ergonomic design to stand up to tough industrial, electrical, HVAC, and mechanical environments to help you work more efficiently in more applications.
Fluke 568 is not only for wider temperature measurement the value of this model you can't amazing on the spot. You may order here Tools Bangladesh.
Key features: 568 Contact & Infrared Temp Gun
Contact and non-contact thermometer in one
Measures temperatures from -40°C to 800°C (-40°F to 1472°F) accurate to +1.0°C or +1.0% of reading (whichever is greater)
Features rugged, ergonomic design that stands up to tough industrial, electrical, and mechanical environments.
Offers a distance-to-spot ratio of 50:1
Works with most K-type thermocouples
Specifications: 568 Contact & Infrared Temp Gun
Product Specifications
Infrared temperature range
-40°C to 800°C (-40°F to 1472°F)
Infrared accuracy
< 0°C (32°F): ±(1.0°C (±2.0°F) + 0.1°/1°C or°F);
> 0°C (32°F): ±1% or ±1.0°C (±2.0°F), whichever is greater
Display resolution
0.1°C / 0.1°F
Infrared spectral response
8 µm to 14 µm
Infrared response time
< 500 msec
Thermocouple Type-K input temperature range
-270°C to 1372°C (-454°F to 2501°F)
Thermocouple Type-K input accuracy
-270°C to -40°C
±(1°C + 0.2°/1°C) (-454°F to -40°F: ±(2°F + 0.2°/1°F))
-40°C to 1372°C
±1% or 1°C (-40°F to 2501°F: ±1% or 2°F), whichever is greater
D:S (distance to measurement spot size)
50:1
Laser sighting
Single-point laser < 1 mw output Class 2 (II) operation, 630 nm to 670 nm
Minimum spot size
19 mm (0.75 in)
Emissivity adjustment
By built-in table of common materials or digitally adjustable from 0.10 to 1.00 by 0.01
Data storage with date/time stamp
99 points
PC interface and cable
USB 2.0 with FlukeView® Forms software
Hi/Low alarms
Audible and two-color visual
Min/Max/Avg/Dif
Yes
Display
Dot matrix 98 x 96 pixels with function menus
Backlight
Two levels, normal and extra bright for darker environments
Trigger lock
Yes
Switchable Celsius and Fahrenheit
Yes
Power
2 AA/LR6 Batteries and USB when used with a PC
Battery life
If used continuously
Laser and backlight on,12 hours; laser and backlight off, 100 hours
Operating temperature
0°C to 50°C (32°F to 122°F)
Storage temperature
-20°C to 60°C (-40°F to 140°F)
Bead thermocouple Type-K range
-40°C to 260°C (-40°F to 500°F)
Bead thermocouple Type-K accuracy
±1.1°C (2.0°F) from 0°C to 260°C (32°F to 500°F), typically within 1.1°C (2.0°F) from -40°C to 0°C (-40°F to 32°F)
Includes: Fluke 568 Infrared and Contact Thermometer
Thermocouple K bead probe
Durable hard case
2 AA batteries
Getting Started guide in 6 languages
USB cable
FlukeView® Forms software on CD
User's Manual on CD in 6 languages (English, Spanish, French, German, Portuguese, and Simplified Chinese)
2-year warranty
Accessories: 568 Contact & Infrared Temp Gun
Holsters (1)
Fluke H6 Infrared Thermometer Holster
Probes (8)
Fluke 80PK-11 Type-K Flexible Cuff Thermocouple Temperature Probe
Fluke 80PK-22 SureGrip™ Immersion Temperature Probe
Fluke 80PK-24 SureGrip™ Air Temperature Probe
Fluke 80PK-25 SureGrip™ Piercing Temperature Probe
Fluke 80PK-26 SureGrip™ Tapered Temperature Probe
Fluke 80PK-27 SureGrip™ Industrial Surface Temperature Probe
Fluke 80PK-8 Pipe Clamp Temperature Probe
Fluke 80PK-9 General Purpose Probe
Temperature calibrators (1)
Fluke 80PK-EXT Extension Wire Kit
Related Products