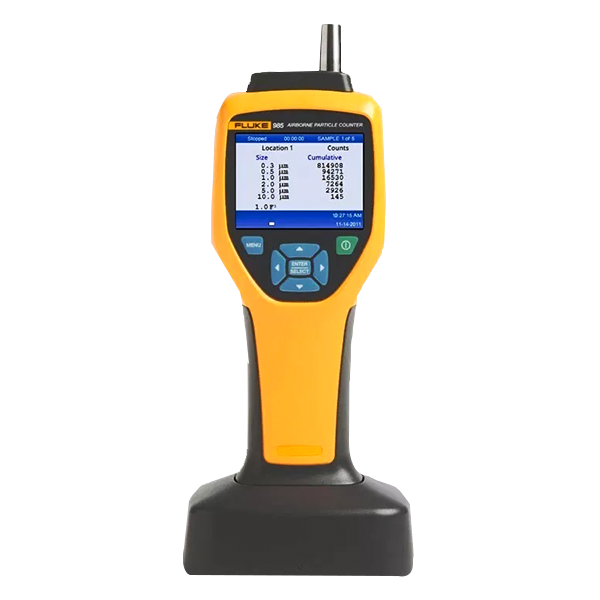 HVAC/Clean Rooms
Fluke 985 Particle Counter
Iconic Engineering Limited
Fluke 985 Particle Counter the advanced tools that you can depend on. We Iconic Engineering offer the best Fluke 985 Particle Counter for you.
Model: Fluke 985 Particle Counter
Fluke 985 Particle Counter is the preferred choice for HVAC and IAQ professionals. From filter testing to IAQ investigations, the Fluke 985 is the portable solution for determining airborne particle concentrations. Use the Fluke 985 to immediately respond to occupant complaints, or as part of a comprehensive preventive maintenance program.
With the Fluke 985 you can:
Measure filter efficiency
Monitor industrial cleanrooms
Pre-screen indoor air quality and confidently work with IAQ specialists
Locate particle sources for remediation
Report the effectiveness of repairs to customers
Drive additional business by demonstrating the need for maintenance and repair
With a large screen, intuitive icons for navigation and on-screen data presentation, the Fluke 985 allows users to run more tests quickly, with less time spent cycling through screens to obtain the data. Fluke 985 is lightweight and easy to use in any position and with easy data export options using USB cable, memory stick it's easy to review and analyze the data anywhere and anytime.
Order through Tools Bangladesh Get the fluke 985 by free delivery anywhere in Bangladesh.
Fluke 985 Particle Counter
Key features:
Assess air quality more easily and accurately.
Six channels and particle size range of 0.3 - 10.0 µm: Assures accurate measurements even for critical locations requiring ISO Class 5 – 9 certification
Ultra-lightweight and ergonomic design: Promises easy single-hand operation in tight or awkward spaces with less operator fatigue
Long battery life: Ten hours of standard-use battery life to last a full workday
Large 3.5 QVGC Color display: Easy navigation and viewing with intuitive icons and large font options
10,000 record storage: Quick access to historical data
On-screen data presentation: Data can be viewed in a traditional tabular or trend graph view at the user's preference
Personalized setting and configurations: Customizable settings for the display, sample methods, and alarm settings for sample count
Data export options: Download data to a PC using a USB memory stick, USB cable or Ethernet connection. No special software is required to download or view data
Option password control: Confirms security when required
USB/Ethernet charge cradle: Assures device is always ready to go when needed
Specifications: Fluke 985 Particle Counter
Measured Specifications
Channels
0.3 μm, 0.5 μm, 1.0 μm, 2.0 μm, 5.0 μm, 10.0 μm
Flow rate
0.1 cfm (2.83 L/min)
Light source
775 nm to 795 nm, 90 mW class 3B laser
Count modes
Raw counts, #/m3, #/ft3, #/liter in Cumulative or Differential mode
Counting efficiency
50% @ 0.3 μm; 100% for particles > 0.45 μm (per ISO 21501)
Zero count
1 count / 5 minute (JIS B9921)
Concentration limits
10% at 4,000,000 particles per ft3 (per ISO 21501)
Data storage
10,000 records (rotating buffer)
Alarms
Counts, low battery, sensor fail
Delay time
0 to 24 hours
Sample inlet
Isokinetic probe
Security
Administrator password control (optional)
Communication mode
USB or Etheret
Dimensions (L x W x D)
27.2 x 9.9 x 5.3 cm (10.7 x 3.9 x 2.1 in)
Weight
0.68 kg (1.5 lb)
Power adapter
100 V AC to 240 V AC, 12 V DC, 2.5 A
Rechargeable battery
Li-ion 7.4 V 2600 mAh; 10 hours typical use (5 hours continuous sampling) / 3.5 hours
Calibration
PSL particles in air (NIST traceable)
Operating environment
50°F to 104°F (10°C to 40°C) / < 95% non-condensing relative humidity
Storage environment
14°F to 122°F (-10°C to 50°C)/Up to 98% non-condensing relative humidity
Warranty
One-year
Accessories included
Cradle for charging and convenient USB and Ethernet communications, ENET CAT5E 7 foot cable, USB-A to MINI-B 6 foot cable, 12 V dc power supply, zero count inlet- filter, filter adapter, sample inlet protective cap, hard case, getting started manual and users manual CD
Fluke 985 Particle Counter
Includes:
Getting started manual and users manual CD
Cradle for charging and convenient USB and Ethernet Communications
ENET CAT5E 7-foot cable
USA-A to MINI-B 6-foot cable
12 V DC power supply
Zero count inlet-filter
Filter adapter
Sample inlet protective cap
Hard Case
Accessories: Fluke 985 Particle Counter
Related Products