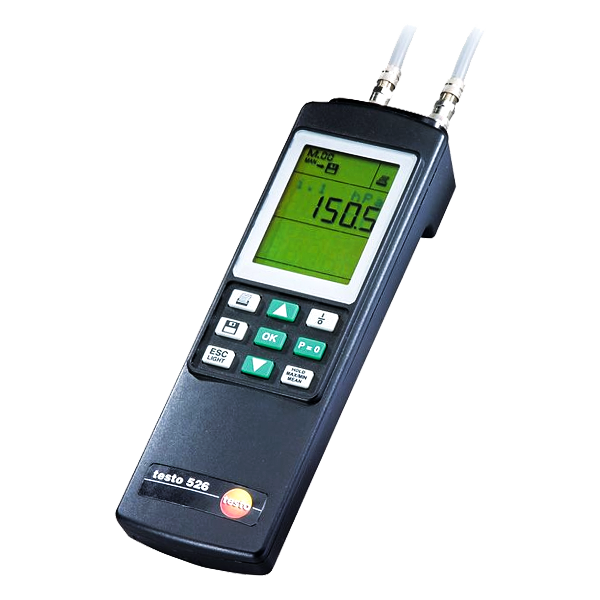 Model: Testo 526-2 - Differential pressure measuring instrument
The Testo 526 is the differential pressure meter for industrial applications. Critical processes can be measured and monitored highly efficiently, with an accuracy of up to 0.05% of the full-scale value.
Testo 526-2 high precision differential pressure measuring instrument, including quick-release connections, calibration protocol, and batteries.
The rugged, reliable and trusted tool that everybody expected. But the official release product that we provide. The significant distance is authorized and unauthorized between official and unofficial products. You may place your order at Tools Bangladesh order for the authorized product.
Features
Key Features: Testo 526-2 - Differential pressure measuring instrument
Temperature-compensated differential pressure sensor
Multi-point and timed mean calculation
Freely selectable measuring rate for recording measurement data
2 additional probe inputs for the attachment of optional pressure and temperature probes
Specifications
Specifications: Testo 526-2 - Differential pressure measuring instrument
Temperature - NTC

Measuring range

-40.0° to 302.0 °F / -40 to +150 °C

Accuracy

±0.4 °F (14.0° to 122.0 °F)* / ±0.2 °C (-10 to +50 °C)*

±0.7 °F (Remaining Range)* / ±0.4 °C (Remaining Range)*

Resolution

0.1 °F / 0.1 °C
*Accuracy information applies only to instrument without probes connected
Temperature - Type K TC

Measuring range

-328.0° to 2498.0 °F / -200 to +1370 °C

Accuracy

±0.7 °F (-148.0° to 392.0 °F)* / ±0.4 °C (-100 to +200 °C)*

±1.8 °F (Remaining Range) / ±1 °C (Remaining Range)*

Resolution

0.1 °F / 0.1 °C
*Accuracy information applies only to instrument without probes connected
Differential pressure (internal sensor) - Piezoresistive

Measuring range

0 to 800 InH₂O / 0 to 2000 hPa

Accuracy

±0.05 % of full-scale value

Resolution

0.0 InH₂O / 0.1 hPa

Static pressure

800 InH₂O (abs) / 2000 hPa (abs)

Overload

1200 InH₂O / 3000 hPa

Zeroing

to 20 InH₂O / to 50 hPa
Differential pressure (external probe) - Piezoresistive

Measuring range

0 to 800 InH₂O / 0 to 2000 hPa

Accuracy

±0.1 % of mv*

Resolution

0.10 InH₂O (0638 1347) / 0.10 Pa (0638 1347)

0.01 InH₂O (0638 1547) / 0.01 hPa (0638 1547)

0.001 InH₂O (0638 1447) / 0.001 hPa (0638 1447)

0.1 InH₂O (0638 1847 / 0638 1647) / 0.1 hPa (0638 1847 / 0638 1647)
*Accuracy information applies only to instrument without probes connected
Differential pressure (external probe) - Ceramic

Measuring range

-15 to 5802 psi / -1 to 400 bar

Accuracy

±0.2 % of full-scale value*

Resolution

0.14 psi / 0.01 bar
*Accuracy information applies only to instrument without probes connected
General technical data

Dimensions

9 x 3 x 2 in. / 219 x 68 x 50 mm

Operating temperature

32.0° to 122.0 °F / 0 to +50 °C

Housing

ABS

Measuring rate

0.04 sec

Battery type

9 V (6LR61)

Battery life

Continuous operation w/ internal pressure sensor: 30 h; With rech. battery: 10 h; With carbon battery: 18 h

Connection

Hose: inner Ø 4 mm outer Ø 6 mm

Display type

LCD

Display function

with symbol, 7 segment display and point matrix

Display update

2x per second, in fast measurement 4x per second

Power supply

Battery/Rechargeable battery,Mains unit 12 V

Interface

RS232

Memory

100 kB; 25,000 measuring values

Storage temperature

-4.0° to 158.0 °F / -20 to +70 °C

Weight

11 oz. / 300 g
Includes
Includes: Testo 526-2 - Differential pressure measuring instrument
Testo 526-2 - Differential pressure measuring instrument
Accessories
Accessories: Testo 526-2 - Differential pressure measuring instrument
TopSafe (protective case)
RS232 cable
Spare thermal paper, permanent ink
Power supply for compact gas drier and flue gas analyzer
Recharger for 9 V rechargeable battery
9V rechargeable battery for instrument
Connection hose, silicone, 16.4 ft, load up to 281 inH₂O
Cable, 15 ft. long, connects probe with plug-in head to measuring instrument
Connection cable