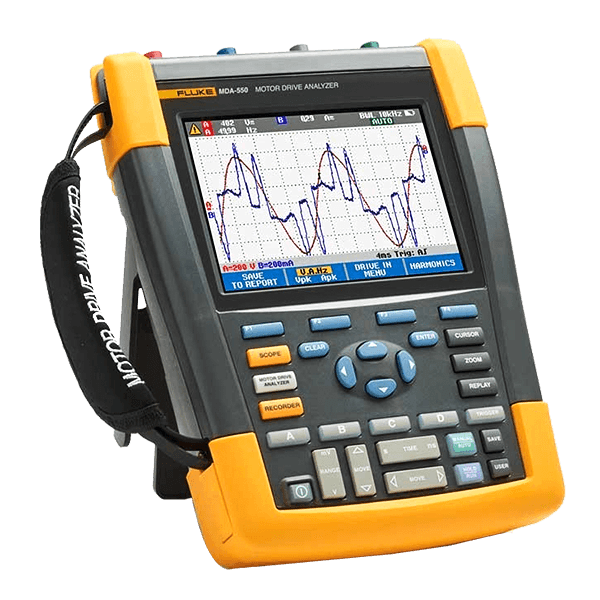 Model: Fluke MDA-510 and MDA-550 Motor Drive Analyzers
The Fluke MDA 510 and MDA 550 Motor-Drive Analyzers retain period and eliminate the annoyance of setting going on puzzling measurements, even though simplifying the troubleshooting process for modifiable frequency drives.
Simply choose a test and the step-by-step guided measurements function you where to make voltage and current links, even though the preset measurement profiles ensure you will occupy the entire single one the data you dependence for each vital motor-objective section from the input to the output, the DC bus, and the motor itself.
From basic to objector measurements, the MDA-500 Series has you covered and bearing in mind a built-in excuse generator you can speedily and easily generate as-found, and as-left reports taking into account confidence.
Keep here your confidence the great Fluke product you are receiving If you want to Buy this product check at Tools Bangladesh.
Features
Key features: Fluke MDA-510 and MDA-550 Motor Drive Analyzers
Guided testing with graphical step-by-step voltage and current connection diagrams makes setup and connection to variable frequency drives easier than ever
Preset measurement profiles collect data based on the chosen test procedure and reduce the need for complex configuration
Built-in report writing capabilities make it easy to produce professional as-found and as-left motor-drive troubleshooting reports
Specifications
Specifications: Fluke MDA-510 and MDA-550 Motor Drive Analyzers
Measurement Function
DC voltage (V dc)
Maximum voltage with 10:1 or 100:1 probe
1000 V
Maximum resolution with 10:1 or 100:1 probe
1 mV
Full scale reading
999 counts
Accuracy at 4 s to 10 us/div
±(3 % + 6 counts)
AC voltage (V ac)
Maximum voltage with 10:1 or 100:1 probe
1000 V
Maximum resolution with 10:1 or 100:1 probe
1 mV
Full scale reading
999 counts
50 Hz
±(3 % + 10 counts) - 0.6 %
60 Hz
±(3 % + 10 counts) - 0.4 %
60 Hz to 20 kHz
±(4 % + 15 counts)
20 kHz to 1 MHz
±(6 % + 20 counts)
1 MHz to 25 MHz
±(10 % + 20 counts)
True-rms voltage (V ac+dc)
Maximum voltage with 10:1 or 100:1 probe
1000 V
Maximum resolution with 10:1 or 100:1 probe
1 mV
Full scale reading
1100 counts
DC to 60 Hz
±(3 % + 10 counts)
60 Hz to 20 kHz
±(4 % + 15 counts)
20 kHz to 1 MHz
±(6 % + 20 counts)
1 MHz to 25 MHz
±(10 % + 20 counts)
PWM voltage (V pwm)
Purpose
To measure on pulse width modulated signals, like motor drive inverter outputs
Principle
Readings show the effective voltage based on the average value of samples over a whole number of periods of the fundamental frequency
Accuracy
As Vac+dc for sinewave signals
Peak voltage (V peak)
Modes
Max peak, min peak, or pk-to-pk
Maximum voltage with 10:1 or 100:1 probe
1000 V
Maximum resolution with 10:1 or 100:1 probe
10 mV
Accuracy
Max peak, min peak
±0.2 division
Pk-to-pk
±0.4 division
Full scale reading
800 counts
General Specification
Current (AMP) with current clamp
Ranges
Same as V ac, Vac+dc or V peak
Scale Factors
0.1 mV/A, 1 mV/A, 10 mV/A, 20 mV/A, 50mV/A, 100 mV/A, 200 mV/A, 400 mV/A
Accuracy
Same as Vac, Vac+dc or V peak (add current clamp accuracy)
Frequency (Hz)
Range
1.000 Hz to 500 MHz
Full scale reading
999 counts
Accuracy
±(0.5 % + 2 counts)
Voltage/Herz ratio (V/Hz)
Purpose
To show the measured V PWM value (see V PWM) divided by the fundamental frequency on variable ac motor speed drives
Accuracy
% Vrms + % Hz
Voltage unbalance drive input
Purpose
To show the highest percentage difference of one of the phase vs average of the 3 true-rms voltages
Accuracy
Indicative percentage based on Vac+dc values
Voltage unbalance drive output and motor input
Purpose
To show the highest percentage difference of one of the phase vs average of the 3 PWM voltages
Accuracy
Indicative percentage based on V PWM values
Current unbalance drive input
Purpose
To show the highest percentage difference of one of the phase vs average of the 3 AC current values
Accuracy
Indicative percentage based on Aac+dc values
Current unbalance drive output and motor input
Purpose
To show the highest percentage difference of one of the phase vs average of the 3 AC current values
Accuracy
Indicative percentage based on A ac values
Rise and fall time
Readings
Voltage difference (dV), time difference (dt), voltage vs time difference (dV/dt), overshoot
Accuracy
As oscilloscope accuracy
Harmonics and spectrum
Harmonics
DC to 51st
Spectrum ranges
1…9 kHz, 9-150 kHz (20 MHz filter on), up to 500 MHz (voltage modulation)
Shaft voltage
Events / second
Indicative percentage based on rise and fall time (Impulse discharges) measurements
Report data capture
Number of screens
Typical 50 screens can be saved in reports (depends on compression ratio)
Transfer to PC
Using 2 GB USB stick or mini-USB to USB cable and FlukeView™ 2 for ScopeMeter™ test tool
Probe settings
Voltage probe
1:1, 10:1, 100:1, 1000:1, 20:1, 200:1
Current clamp
0.1 mV/A, 1 mV/A, 10 mV/A, 20 mV/A, 50 mV/A, 100 mV/A, 200 mV/A, 400 mV/A
Shaft voltage probe
1:1, 10:1, 100:1
Includes
Includes: Fluke MDA-510 and MDA-550 Motor Drive Analyzers
1x BP 291 li-ion battery pack
1x BC190 charger/power adapter
3x VPS 100:1 high voltage probes with alligator clips
1x VPS410-II-R 10:1 500MHz voltage probe
3x i400s ac current clamp
1x C1740 carrying case
1x 2 GB USB drive with manuals and FlukeView™ 2 software
1x SVS-500 shaft voltage set (3x brush, probe holder, two-piece extension rod and magnetic base)
Accessories
Accessories: Fluke MDA-510 and MDA-550 Motor Drive Analyzers
Kits
Automotive
Adapters
Batteries
Connectors
Cases
Clips
Other
Fluke calibration software
Probes
Test leads
Cables
Test probes