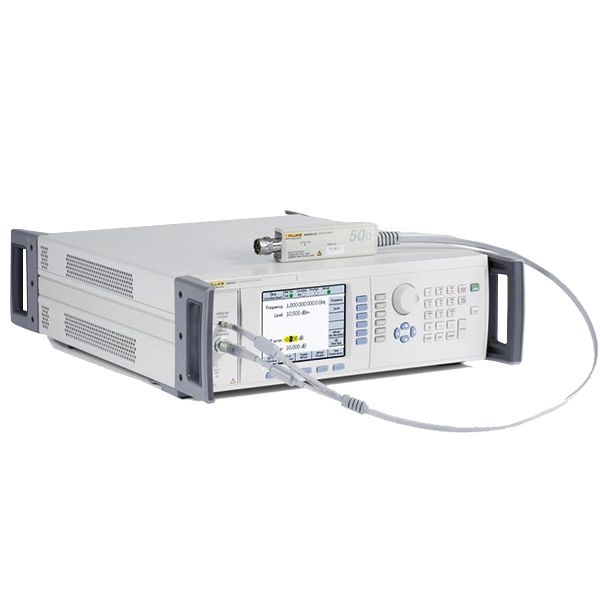 Fluke 96040A Low Phase Noise Reference Source
Fluke 96040A Low Phase Noise Reference Source enables you to simplify your RF calibration system by replacing many of the instruments and accessories that make up your current system. It's precision signal level and attenuation, high signal purity, and precision low distortion modulation make this reference source superior to the general-purpose signal generators that are often used to calibrate spectrum analyzers, modulation meters, RF sensors, attenuators, and similar instruments. Its low phase noise provides superior phase noise performance.
Unlike many RF calibration solutions, the 96040A is designed specifically for RF calibration, with a calibration-oriented user interface that makes it easy to learn and use. The 96040A speeds up calibration procedures, reduces opportunities for operator errors, and greatly simplifies RF metrology. As the core of an RF and microwave calibration system, the 96040A covers the majority of test points required for calibrating spectrum analyzers of any frequency range.
Automated with MET/CAL® Plus Calibration Management Software, the 96040A reduces complexity and calibration times, dramatically improving efficiency and increasing capacity by 50 % or more over manual methods.
If you intend that you buy this product you will gain because Iconic Engineering always provides Fluke original products through Tools Bangladesh.
Features
Key Features: Fluke 96040A Low Phase Noise Reference Source
Covers a broad range of RF calibration workload
Reduces the number of instruments and interconnections required for your RF calibration system
"What you set is what you get" accurate signal delivery direct to the DUT input
Integrated 50 MHz frequency counter eliminates need for an additional instrument • Calibration-specific interface simplifies technician tasks
Simplifies uncertainty calculations by delivering known signals direct to the device under test (DUT)
Lowers RF system maintenance costs
With automation, reduces spectrum analyzer calibration times by as much as 50% over manual methods
Specifications
Specifications: Fluke 96040A Low Phase Noise Reference Source
96040A summary specifications*
Frequency specifications
Level specifications
(50 Ω output, see extended specifications for 75 Ω)
Range
1 mHz to 4 GHz
-130 to +24 dBm to 125 MHz, 14 dBm at 4 GHz (leveled)
Resolution
10 µHz
0.001 dB
Accuracy
± 0.05 ppm ± 5 µHz
Down to -48 dBm: ± 0.03 dB to 100 kHz, ± 0.05 dB to 128 MHz, ± 0.3 dB at 4 GHz
10 MHz to 128 MHz: ± 0.05 dB to -48 dBm, ± 0.1 dB to -84 dBm , ± 0.7 dB at -130 dBm
Attenuation
± 0.02 dB to 49 dB, ± 0.15 dB at 110 dB
Relative to +10 dBm, 10 Hz to 128 MHz
VSWR
≤ 100 MHz: ≤ 1.05, ≤ 2 GHz: ≤ 1.1, 2 GHz to 4 GHz: ≤ 1.0 + 0.05 xf (GHz)
Harmonics and spurious
–60 dBc harmonics, –78 dBc spurious to 1 GHz
Phase noise at 1 GHz
–144 dBc/Hz, typical, at 10 kHz to 100 kHz offset
Modulation
AM, FM, PM, internal and external. Frequency pull and external leveling
Frequency sweep
1 mHz to 4 GHz. Linear or Logarithmic. Stop-Start or Center-Span
Frequency counter
Internal 50 MHz frequency counter
Temperature
Operating: 0 °C to 50 °C, 23 °C ± 5 °C for specified performance; Storage: -20 °C to +70 °C.
Standard interfaces
IEEE-488.2 (GPIB)
GPIB command emulation
9640A, 9640A-LPN, 9640A-LPNX, HP3335, HP8662A, HP8663A.
Dimensions (HxWxD)
146 mm x 442 mm x 551 mm (5.8 in x 17.4 in x 21.7 in) including handles Industry-standard 19 in (483 mm) rack mounting when fitted with Y9600 rack mounting kit
Weight
18 kg (40 lb)
*Key specifications summary. Refer to the extended specifications for full and detailed specifications.
Includes
Includes: Fluke 96040A Low Phase Noise Reference Source
| Model Name | Description |
| --- | --- |
| 96040A | 4 GHz RF Reference Source including 50 Ω Leveling Head |
| 96040A/75 | 4 GHz RF Reference Source including 50 Ω and 75 Ω Leveling Heads |
Accessories
Accessories common to all models: Fluke 96040A Low Phase Noise Reference Source
| Accessory | Description |
| --- | --- |
| 9600FLT | 1 GHz Wide Offset Phase Noise Filter |
| 9600CONN | Adapter/Torque Kit |
| Y9600 | Rackmount Kit (Slides) |
| 96000CASE | Rugged Transit Case |
| Priority Gold Instrument CarePlan | Fluke Calibration Priority Gold Instrument care plans are available for most calibration products. Please contact your local Fluke Calibration sales representative for details or to request a quote. |
| Silver CarePlan | Fluke Calibration Silver care plans are available for most calibration products. Please contact your local Fluke Calibration sales representative for details or to request a quote. |