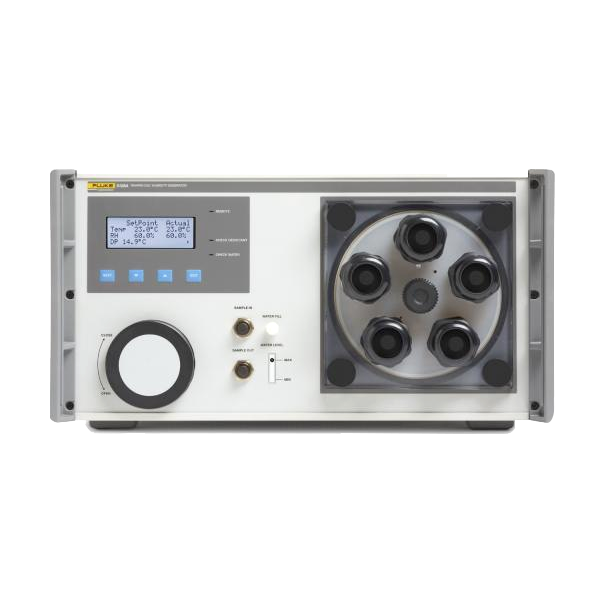 Model: 5128A RHapid-Cal® Humidity Generator
Fluke 5128A RHapid-Cal® Humidity Generator is a portable humidity generator for calibrating a large workload of probes in the laboratory or on-site in the field. It is used by corporate calibration/research labs and independent calibration labs where humidity measurement is critical to prevent spoilage of products in industries including pharmaceuticals, medical devices, semiconductors, chemicals, and food production.
In the lab, the 5128A calibrates humidity probes 33% faster than a two-pressure generator.
In the field, the Fluke 5128A provides more thorough, reliable multi-point calibrations than one-point spot checks using handheld humidity meters.
The 5128A comes standard with an ISO 17025 accredited system calibration. Support offerings include online chat, email, phone, and product service from Fluke Calibration, channel partners and authorized service centers around the world.
Trusted and reliable Fluke distributor in Bangladesh. Buy now this model through Tools Bangladesh. Iconic Engineering keep the ability to delivery anywhere in Bangladesh
Features
Key Features: Fluke 5128A RHapid-Cal® Humidity Generator
Best-in-class system accuracy for dependable humidity probe calibration
Rapid humidity and temperature stabilization time for high calibration throughput
Supports on-site, multi-point calibration of humidity probes
Versatile design accommodates a large workload
Compact size and lightweight for easy transport
ISO 17025 accredited system calibration included standard
Easy to maintain
Specifications
Specifications: Fluke 5128A RHapid-Cal® Humidity Generator
AC mains voltage

100 V to 240 V ±10%

Standard frequency range

47 Hz to 63 Hz

Power consumption

300 VA

Required test fluids

Distilled water

Warm-up period

Twice the time since last warmed up, to a maximum of 30 minutes

Mains Fuse Rating

F4A 250 V (fast blow)

Operating humidity range, 18 °C to 28 °C

Up to 80 % RH

Storage temperature and relative humidity

-20 °C to 50 °C, 0 % to 95 % RH, non-condensing

Transducer Power Output

12 V dc, 1 A maximum, fuse: F 1A 250V (fast blow)

Computer Interface

USB

Safety

IEC 61010-1, Installation Category II, Pollution degree 2, Indoor use only

Altitude

2000 m

Electromagnetic Compatibility (EMC)

International

IEC 61326-1: Controlled Electromagnetic Environment

CISPR 11: Group 1, Class A
Group 1: Equipment has intentionally generated and/or uses conductively-coupled radio frequency energy that is necessary for the internal function of the equipment itself.

Class A: Equipment is suitable for use in all establishments other than domestic and those directly connected to a low-voltage power supply network that supplies buildings used for domestic purposes. There may be potential difficulties in ensuring electromagnetic compatibility in other environments due to conducted and radiated disturbances.

Korea (KCC)

Class A Equipment (Industrial, Broadcasting, & Communication Equipment)

Class A: Equipment meets requirements for industrial electromagnetic wave equipment and the seller or user should take notice of it. This equipment is intended for use in business environments and not to be used in homes.

USA (FCC)

47 CFR 15 subpart B. This product is considered an exempt device per clause 15.103.

Weight
Chassis only

15 kg (33.06 lbs)

Dimensions

Chassis

237 mm x 432 mm x 521 mm (9.3 in x 17 in x 20.5 in) (height x width x depth)

Overall Chamber Dimensions

200 mm (7.87 in) (depth) x 150 mm (5.90 in) (diameter)

Working Volume Dimensions

109 mm (4.3 in) (depth) x 125 mm (4.92 in) (diameter)

Temperature resolution

Display

0.1 °C

USB data

0.1 °C

Humidity resolution

Display

0.1 % RH

USB data

0.1 % RH

Dew point

Resolution

0.1 °C (for indication only)
Note: The displayed dew point reading (DP) is calculated from the Product's actual temperature and %RH readings. It is calculated as a dew point (water vapor over water) over the entire range, regardless if dew point is equal to or lower than 0°C, and at a nominal pressure of 101.325 kPa (1 atmosphere).
Humidity and temperature chamber technical specifications
The Product specifications describe the Absolute Instrumental Uncertainty of the Product. The Product specifications include stability, ambient temperature, and humidity (within specified limits), linearity, line regulation, the reference standard measurement uncertainty and long term stability of one year. The product specifications are provided at a 99 %, k=2.58, normally distributed level of confidence, unless otherwise noted.
Chamber specifications
One Year, Ambient Temperature Range 23 °C ± 3 °C1

Chamber temperature range

Chamber humidity range

Humidity specification

Temperature specification

18 °C to 23 °C

7 % to 80 % RH
>80 % to 95 %RH

±1.0 % RH
±1.25 % RH

±0.2 °C
±0.2 °C

>23 °C to 28 °C

7 % to 80 % RH
>80 % to Hmax2 % RH

±1.0 % RH
±1.25 % RH

±0.2 °C
±0.2 °C

1 For ambient conditions of 23 °C ± 5 °C, multiply the specifications by 1.5.

2 Hmax is the maximum humidity value at which the specification applies.
Note: Specifications apply to the Working Volume shown in the Working Volume Template found at the end of the Operators Manual, and is referenced to the "Actual" reading on the Product display.
Chamber Uniformity and Stability
Ambient temperature range: 23 °C ±3 °C1

Chamber temperature

Chamber humidity

Chamber temperature uniformity2

Chamber humidity uniformity2

Chamber humidity stability3

Chamber temperature stability 3

18 °C to 28 °C

7 %

±0.12 °C

±0.3 % RH

±0.15 % RH

±0.05 °C

The following specifications are typical for chamber conditions shown4

5 °C to <18 °C5
>28 °C to 30 °C
>30 °C to 35 °C
>35 °C to 40 °C
>40 °C to 50 °C

15 %
7 %
7 %
7 %
7 %

±0.5 °C
±0.2 °C
±0.3 °C
±0.5 °C
±0.5 °C

±1.5 % RH
±0.6 % RH
±0.9 % RH
±1.5 % RH
±1.5 % RH

±0.5 % RH
±0.3 % RH
±0.4 % RH
±0.5 % RH
±0.5 % RH

±0.5 °C
±0.2 °C
±0.3 °C
±0.5 °C
±0.5 °C

1 For ambient conditions of 23 °C ± 5 °C, multiply the specifications by 1.5.
2 Defined as the uniformity of the Working Volume.
3 Defined as 1-sigma standard deviation of measurement readings over a 5-minute span.
4 Chamber humidity uniformity is listed for mid-level humidity settings. Lower humidity settings will give better uniformity while higher humidity settings will give worse uniformity.
5 The chamber control range is 5 °C to 50 °C. Achievable low temperature may be limited to 15 °C below ambient dependent upon stabilization time and temperature and humidity settings.
Operational specifications
| | |
| --- | --- |
| Temperature rate of change – down | 1.5 °C/minute (Typical) |
| Temperature rate of change – up | 10 °C /minute (Typical) |
| Humidity rate of change – down | 5 % RH/minute (Typical) |
| Humidity rate of change – up | 10 % RH/minute (Typical) |
Includes
Includes: Fluke 5128A RHapid-Cal® Humidity Generator
Model Name
Description
5128A

RHapid-Cal® Humidity Generator

Includes:

1 Square 5-Port Door
1 Desiccant Cartridge
1 Fill Syringe with ExtensionTube
5 Grommets (one each of 1/4 in, 3/8 in, 1/2 in, 3/4 in, 7/8 in sizes)
1 Mains Power Cord, 2-Meter
Fluke ISO 17025 Accredited System Calibration, 115 V AC / 230 V AC
Accessories
Accessories common to all models:
| Accessory | Description |
| --- | --- |
| 5128-2686 | Desiccant Material Kit (includes desiccant plus 2 caps and 2 filters) |
| 5128-2685 | Desiccant Cartridge (including desiccant material) |
| 5128-2681-R5 | Round Door, 5 ports |
| 5128-2681-S0 | Clear Square Door with two shelves (small and large) |
| 5128-2681-S5 | Square Door, 5 ports (spare) |
| 5128-CASE | 5128A Case with Wheels |
| 5128-2682-1/4 | Port Grommets, 1/4 inch, 5 each |
| 5128-2682-3/8 | Port Grommets, 3/8 inch, 5 each |
| 5128-2682-1/2 | Port Grommets, 1/2 inch, 5 each |
| 5128-2682-3/4 | Port Grommets, 3/4 inch, 5 each |
| 5128-2682-7/8 | Port Grommets, 7/8 inch, 5 each |
| 5128-2683 | Port Plugs, 5 each |
| 5128-2684 | Fill Syringe with Extension Tube |