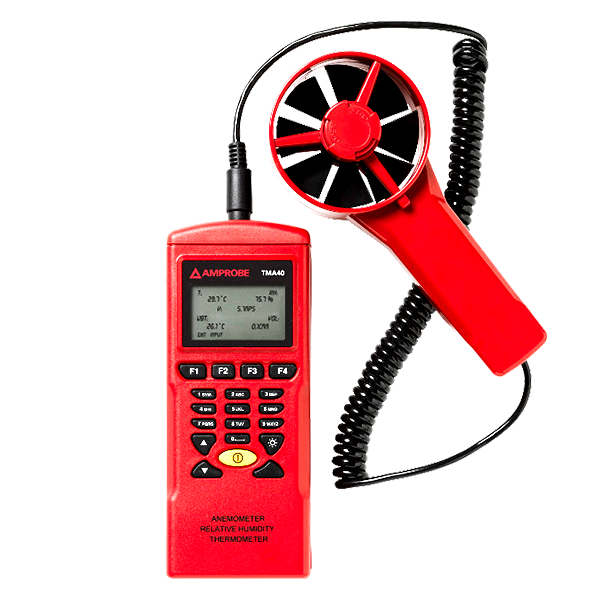 Model: Amprobe TMA40-A Datalogging Anemometer
Amprobe TMA40-A Datalogging Anemometer provides three measurements in one: air velocity or volume, relative humidity, and temperature. With three ways to view your measurement results, choose between single point measurement, multiple points up to 99, or the added feature of data logging up to 2400 data points. The user sets the measurement interval time from 1 to 200 seconds. The TMA40A has a flexible cord to position vane where you need to measure. For accurate CFM results, the user simply inputs the area of the air source.
For measuring indoor air quality, and for HVAC/R technicians measuring heating, ventilation, air-conditioning, refrigeration, wind flow and temperature in residential, commercial and industrial air conditioning systems. Iconic engineering is an Amprobe distributor in Bangladesh. Order now through Tools Bangladesh to get quick delivery to your doorstep.
Features
Key Features: Amprobe TMA40-A Datalogging Anemometer
Three measurements in one meter
Air velocity (FPM) or air volume (CFM), RH, Temperature
Large digital display with Backlight
Flexible measurement vane for accessing difficult areas
RS232 Output for data result usage
Measure multiple points up to 99
Data Logging of Measurements, 2400 data points
Set display results for Metric or English
Specifications
Specifications: Amprobe TMA40-A Datalogging Anemometer
| | | | |
| --- | --- | --- | --- |
| Function | Range | Resolution | Accuracy |
| Air velocity | 0.4 m/s → 32 m/s | 0.1 m/s | +/- 3 % |
| Air volume | .0 → 99999 (cfm/cmm) | 0.1 CMM – 1 CFM | +/- 3 % |
| Temperature | -4 °F → 158 °F (-20 °C → 70 °C) | 0.1 °F (0.1 °C) | +/- 0.6 % |
| Relative humidity | 0 → 100 % | 0.1 % | +/- 3 % @ 77 °F (25 °C) |
Includes
Includes: Amprobe TMA40-A Datalogging Anemometer
Description

Three measurements in one meter
Air velocity (FPM) or air volume (CFM), RH, Temperature
Large digital display with Backlight
Accessories
Accessories: Amprobe TMA40-A Datalogging Anemometer
Carrying case
battery (installed)
user manual
Optional PC interface for charting or analysis