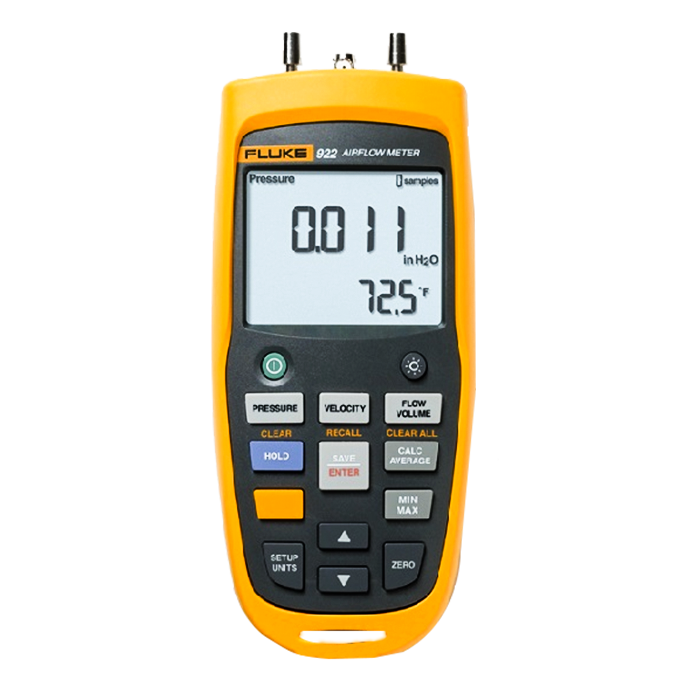 Model: Fluke 922 Airflow Meter
Fluke 922 Airflow Meter Today's HVAC technicians want a simple solution for diagnosing ventilation issues. Differential pressure measurements only tell part of the story. Technicians also want to measure air velocity and flow, without having to resort to expensive, difficult to use, specialist tools. The Fluke 922 makes airflow measurements easy by combining three tools: differential pressure, airflow, and velocity into a single, rugged meter.
You never try to search for it anywhere in Bangladesh. You do not find it anywhere in Bangladesh. Because of we Iconic Engineering only one authorized distributor of Fluke Corporation. So, If you buy the original rugged and reliable product then you may check out through Tools Bangladesh.
Features
Key features: Fluke 922 Airflow Meter
Powerful meter provides differential and static pressure, air velocity and flow readings
Convenient colored hoses help proper interpretation of pressure readings
Easy to use without sacrificing performance
Bright, backlit display for clear viewing in all environments
User-defined duct shape and size for maximum airflow accuracy
Resolution down to 0.001 inH2O
99 point data storage capacity
Min/Max/Average/Hold functions for easy data analysis
Auto power off saves battery life
Specifications
Specifications: Fluke 922 Airflow Meter/Micromanometer
Technical Specifications
Air pressure
Range / Resolution / Accuracy
±4000 Pascals / 1 Pascal / ±1% + 1 Pascal
±16 inH2O / 0.001 inH2O / ±1% + 0.01 inH2O
±400 mmH2O / 0.1 mmH2O / ±1% + 0.1 mmH2O
±40 mbar / 0.01 mbar / ±1% + 0.01 mbar
±0.6 psi / 0.0001 psi / ±1% + 0.0001 psi
Air velocity
Range / Resolution / Accuracy
250 to 16,000 fpm / 1 fpm / ±2.5% of reading at 2000 fpm (10.00 m/s)
1 to 80 m/s / 0.001 m/s / ±2.5% of reading at 2000 fpm (10.00 m/s)
Air flow (volume)
Range / Resolution / Accuracy
0 to 99,999 cfm / 1 cfm / Accuracy is a function of velocity and duct size
0 to 99,999 / 1 m3/hr / Accuracy is a function of velocity and duct size
0 to 99,999 l/s / 1 l/s / Accuracy is a function of velocity and duct size
Temperature
Range / Resolution / Accuracy
0°C to 50°C / ±1% + 2°C / 0.1°C
32°F to 122°F / ±1% + 4°F / 0.1°F
General Specifications
Operating temperature
0°C to +50°C (+32°F to +122°F)
Storage temperature
-40°C to +60°C (-40°F to +140°F)
Relative humidity
0% to 90%, non-condensing
IP rating
IP40
Operating altitude
2000 m
Storage altitude
12000 m
EMI, RFI, EMC
Meets requirements for EN61326-1
Vibration
MIL-PREF-28800F, Class 3
Max pressure at each port
10 psi
Data storage capacity
99 readings
Warranty
2 years
Power, battery life
Four AA batteries
Battery life
280 hours without backlight, 60 hours with backlight
Includes
Includes: Fluke 922 Airflow Meter/Micromanometer
Fluke 922 Airflow Meter/Micromanometer
Accessories
Accessories: Fluke 922 Airflow Meter/Micromanometer
Fluke CXT170 Extreme Case